Those Nice Guantanamo Detainees ...
H
ere's an update from the
International Herald Trib
on the latest round of detainee releases from Guantanamo. In case you'd forgotten, all the detainees are wonderful, misunderstood innocents and America is the bad guy here.
A British resident freed from the U.S. Guantanamo Bay prison for suspected terrorists was arrested in connection with a Spanish extradition request on Thursday hours after returning to Britain, police said.

A police spokesman identified the man as 45-year-old Jordanian Jamil el-Banna. "He is being held on a European arrest warrant alleging terrorist related offences that was issued on behalf of the Spanish authorities," said the spokesman.

Police said Banna would appear before a London court later on Thursday. No other details were immediately available. ...


He and two other inmates from Guantanamo Bay, Libyan Omar Deghayes, 37, and Algerian Abdennour Sameur, 33, arrived in Britain on Wednesday after more than four years in captivity.

Deghayes and Sameur were arrested shortly before landing at an airport north of London under the Terrorism Act on suspicion of the commission, preparation or instigation of acts of terrorism and taken to a police station for questioning. ...


Their release from Guantanamo Bay followed campaigning by their families.

The United States has described the men as dangerous.
Spain apparently agrees. I imagine that after a few months of a Spanish-style
inquisition
interrogation ...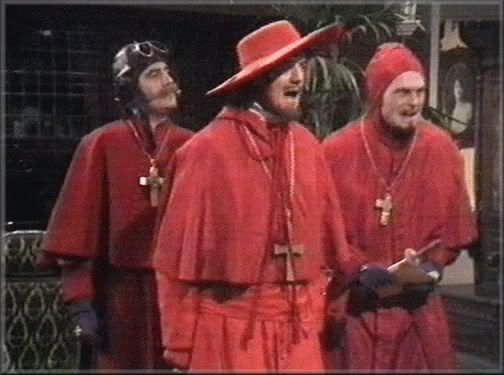 ... Banna will be longing for those carefree days under American care on a sunny Caribbean isle.
Labels: Guantanamo, War on Terror