A Night In Thomas Edison's Bedroom
T
homas Edison will have to do.
The couple that was staying in Henry Ford's bedroom here in the Main House of
The Ford Plantation
decided to stay another day ... as did the couple in Clara Ford's bedroom. Yes, they are across the hall from each other.
I can't complain about our room, however. The four windows look out over the lawn and oaks to the Ogeechee River and the rice marshlands beyond. The bed was amazingly comfortable, and the black marble bathroom was pretty darn indulgent.
Edison was a frequent house guest, so I've decided our room was the room he stayed in. It does have the best views, after all. Here's riddle Henry sprung on Thomas one weekend. They were great riddlers and would work long and hard on one that would stump the other:
AIG-ROEG

We saw it carved on a wooden sign over a little wooden shack they'd built one weekend. Can you solve it?
This morning while Incredible Wife slept, I walked for a bit over an hour out on one of the old rice dikes -- "Built by Irishmen," our guide of Irish ancestry Chip Dolan had told us, "because the slaves were too valuable."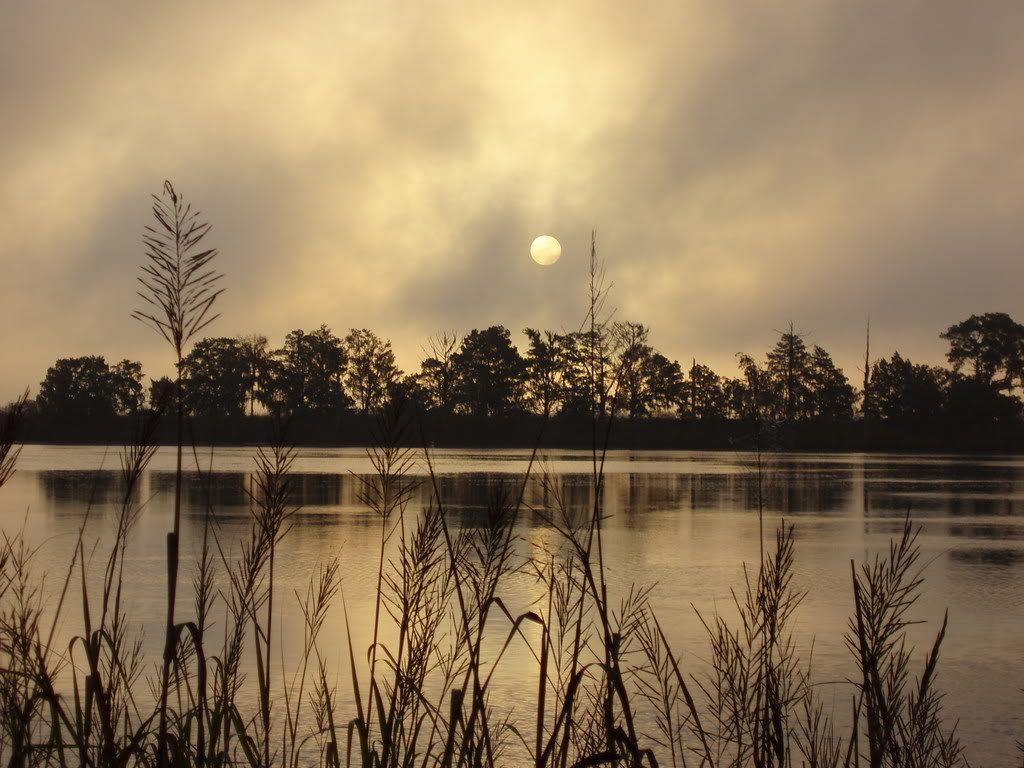 I was early enough to catch the sunrise and enjoy the penetrating silence of the dawn, broken only by the occasional bird cry or fish splash.
On the way back, I passed this house, which Chip referred to as "the Turner's house." I think he meant
that
Turner. Last night we met Olivia and Walker. Walker had come down five days ago to pick up a set of golf clubs his father had left behind. His dad would get around to building on their lot eventually ... he'd been paying over $1,000 a month in dues for the last five years or so while he waited. Yeah, that kind of place.
Anyway, at the end of the walk, I went back up to Edison's room for a clean-up in the black marble shower, and downstairs, where the staff was more than happy to cook me up some eggs, grits and bacon with a crunchy on the outside, moist on the inside biscuit.
Not a bad start to a day.
Labels: Ford Plantation, Savannah