Our Crumbling Civilization: Mmm-Mmm Not Good Edition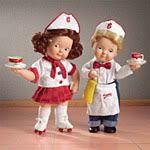 T
hat special bond between father and child ... that look of respect returned with a look of quiet love ... that man who is a pillar of strength and compassion for the next generation.
Yes, indeed. And then there's William Allen Cunningham. As my friend
Jim
suggested, I wonder what these kids will get their father this Father's Day to show their ... uh ... respect:
William Allen Cunningham's 3-year-old son and 18-month-old daughter were hospitalized twice in January 2006. He forced them first to eat soup laced with hot peppers and lighter fluid, and the second time used the prescription drugs Prozac and Amitriptyline — both used to treat depression — to poison the children, authorities said.

Cunningham, 41, pleaded guilty Tuesday to communicating false claims, U.S. Attorney David Nahmias said. Under terms of a plea agreement, he faces up to five years in federal prison when he is sentenced April 19.

"He admitted that he put potentially life-threatening foreign substances into soup, which he fed to his two young children and then placed a call to Campbell Soup Co. falsely claiming that the soup had been contaminated," Nahmias said.

According to prosecutors, Cunningham called Campbell and threatened to sue. Authorities say there was no evidence the soup was tainted when it was bought. (Fox)

This story reminds me so much of the earlier Crumbling Civilization
post about Chytoria Graham
, 27, who used her four-week-old infant as a club, and wailed away on her boyfriend. In that post, I wrote:
Chytoria is so far removed from the American ideal of motherhood that it is difficult to imagine how she was able to live 27 years in this nation and still consider a baby's head as a useful tool of violence.

My Incredible Wife treated the heads of our three Incredible Daughters as if they were ripe plums -- loving care and sensitive concern she had inherited from her mother and a string of fine Scandinavian mothers going back into the mists time.

Chytoria is evidence of a breakdown of maternal heritage; no other explanation is available for her action. Awful as her behavior was, it's not entirely removed from other behavior we see from moms nowdays: allowing their children to become grossly obese, leaving them as latchkey children, smoking dope with them -- you name it.
William Cunningham suffers from an identical breakdown in the American ideal of fatherhood, but he is much worse that even Chytoria, who is among the worst of mothers. She acted in a fit of anger; he endangered and abused his children with cold calculation -- even worse, cold, criminal calculation.
Poisoning your children in order to steal from someone else through lying -- this guy is an immorality firestorm and a vivid personification of our crumbling civilization. God help us.
Related Tags: Society, Morality, Morals, Crimes, Civilization