Obama Wins Valued Italian Designer Endorsement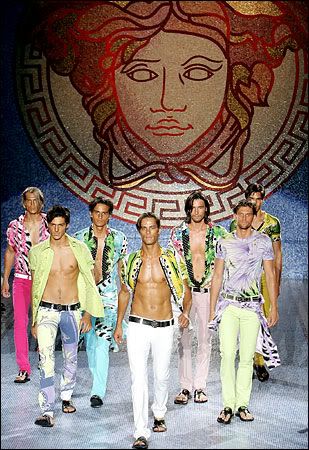 F
lush with his recent endorsements from
Hamas
,
Castro
, Michael
Moore
,
Galloway
and (almost)
Gaddafi
, Barack Obama added the much sought after Donatella Versace kisses on the cheeks this weekend.
Versace dedicated her new men's line to Obama saying (
AP here
, so
I've got to be careful
) she was inspired by Obama as a man who is relaxed and doesn't have to flex his muscles in order to show off his power. (It is rumored that Donatella wanted to dedicate her 1979 line to Jimmy Carter.)
The highly prized endorsement is expected to cement for him the already super-glued gay vote. Now look for Obama to jettison the tie, wear jazzier shirts (or go with a silk T-shirt -- always the symbol of the downtrodden), and cap it off with a structured jacket, perhaps with no lapel, and slim slacks made of a fabric with -- and here comes my high-risk direct quote from AP -- a "slick techno-fabric sheen."
Poor John McCain, stuck in his wool suits, dress shirts and club ties! (And muscles that flex.)
hat-tip: memeorandum