Happy 4th Of July Reading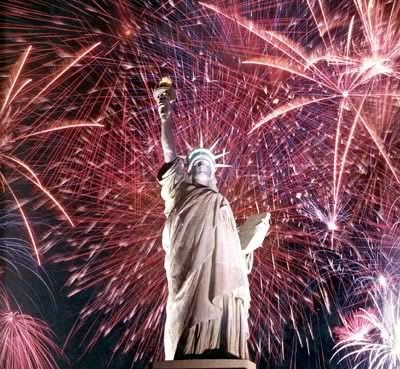 I
've worked 16 days straight, usually over 10 hours a day, so having today off is a blessed relief.
And it being the Fourth of July makes it particularly blessed. I love the Fourth because I love our founding fathers and the super-human but oh-so-human thing they did 231 years ago. I love flying the flag (which I put up between sentences), and I love celebrating Incredible Wife's birthday today to boot. (She really is a firecracker!)
And this Forth is particularly nice because I can relax with some of the best reading on the Web, the Watcher's Council's
weekly pickin's
.
This week I was torn between two humorous (to me, anyway) entries,
Quote of the Day: Islamophobia Edition
and
Glasgow Attack! Ready For Leftyblogs!
I submitted the former, but ...
Here's all the entries, Watcher's Council self-nominations, their nominations for non-Council best post, and a few self-posted entries. (If you blog, I encourage you to enter, following the rules for
the offer of link whorage
.)
Council links:
Non-council links:
Finally, Watcher gave an honorable mention nomination to frequent self-poster Dodgeblogium:
Islamist Provocation... of Their Own...
Dodgeblogium
As always, thanks for what you do,
Watcher
, and happy reading everyone!
Labels: Watcher's Council