Watcher Winners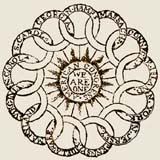 M
y favorite post of the week, Bookworm's
Leftist Media Bias, Israeli Style
, came in second in this week's Watcher's Council review of great posts, and my second favorite, Eternity Road's
The Scourging
, came in first.
Speaking of scourging, do pause on this Good Friday to thank Christ for his sacrifices, including scourging by the Roman troops, on this day. He died for us.
The Scourging is an eye-popping essay on liberal guilt and Bookworm's post details Israel's bold raid on Entebbe to free kidnapped Israeli airline passengers -- and how the Israeli media have warped that story for liberal purposes. Great reading!
Here's how the others fared, in order:
First Israel, Now Britain -- The Chickens Come Home To Roost
, Joshuapundit;
"Question any Excuses..."
, a mind-boggling post about the ineptness and political correctness of Seattle schools by The Colossus of Rhodey,
How to Win/Lose In Iraq
by Big Lizards,
Not the End of the World
by Done With Mirrors,
Anti-Terror Success
by Soccer Dad and an interesting post on the implications of the dog food scare on our food supplies,
Securing the Food Supply
by The Glittering Eye.
My stellar and witty post,
Barbie vs. the Mullahs
got narry a vote. But I can take it. Like Ken, I'm a man. Well, not
exactly
like Ken.
For non-Council entries, I nominated
It's a Long Way from Port Stanley to the Shatt-al-Arab waterway
by Britain and America, which tied for second after
a great post on moral equivalence
by Gates of Vienna.
For the rest of the non-Council winners, here's the
Watcher's list
.
Labels: Watcher's Council