The French Become More Likable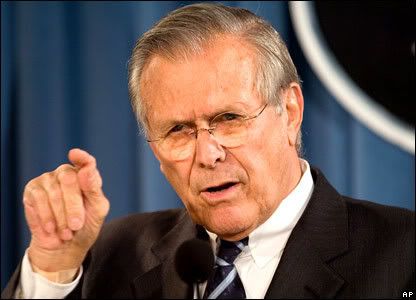 M
ore good news out of France:
PARIS (Reuters) - The Paris prosecutors' office has dismissed a suit against Donald Rumsfeld accusing the former U.S. defense secretary of torture, human rights groups who brought the case said on Friday.

The plaintiffs, who included the French-based International Federation of Human Rights Leagues (FIDH) and the U.S. Center for Constitutional Rights (CCR), said Rumsfeld had authorized interrogation techniques that led to rights abuses.

The FIDH said it had received a letter from the prosecutors' office ruling that Rumsfeld benefited from a "customary" immunity from prosecution granted to heads of state and government and foreign ministers, even after they left office.
I would have liked to have had the decision based on more substantive reasons, like the techniques were not torture and the FIDH and CCR were ridiculously trumping up charges in pursuit not of human rights, but publicity.
Still, the dismissal is justified. Underlings -- far, far underlings -- way down the command chain from Rumsfeld were prosecuted for their crimes, which were against U.S. policy. And that should be the end of it ... unless grandstanding is your desire.
The French courts, it seems, will have none of that.
Labels: Human Rights, Rumsfeld, Torture, War on Terror