A Funeral In Clovis
W
e are in the lovely town of Clovis today, for my brother-in-law's 60th birthday on Sunday. As we drove into town yesterday afternoon, we noted all the flags, including the one outside our hotel, were at half-mast and wondered why.
Now we know: It was the day the town of Clovis buried Nathan Hubbard in an outpouring of sorrow and honor.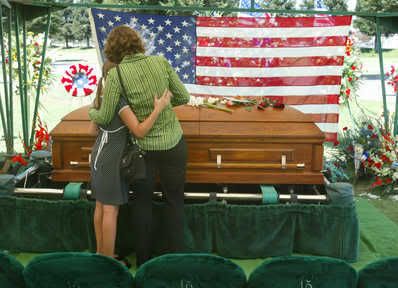 Nathan, 21, was killed Aug. 22, one of 14 soldiers who perished when their helicopter crashed in Iraq. He is also the brother of Jared, who died three years ago in Iraq, the victim of a roadside bomb. He is also the brother of Jason, who was also serving in Iraq at the time of Nathan's death.
Hundreds lined the streets on the route from the church to the cemetery, holding flags, saluting. One 11-year-old boy, Hyrum Malcolm, home sick from school, stood on the curb in his blue plaid pajamas, holding an American flag. He told a
Fresno Bee
reporter:
I'm giving respect to a young man who was fighting for our country and who died for us.
Eleven.
At the cemetery, the Bee reports on Nathan and Jared's third brother, in his crisp Army uniform under a baking summer sun:
As an honor guard removed his brother's casket from a hearse Friday, Army Spc. Jason Hubbard let go of his wife Linnea's hand and saluted.

Standing rigidly at attention, he held the salute as the flag-draped casket of Army Cpl. Nathan Hubbard, 21, was carried slowly past him toward the grave of a second brother, Marine Lance Cpl. Jared Hubbard, who died in 2004.

He held the salute as bagpipes played and as the crowd slowly moved in around him. He held the salute as dozens of other veterans passed him with American flags.

He held the salute until, for the second time in three years, a casket holding one of his brothers was placed in a grave at Clovis District Cemetery.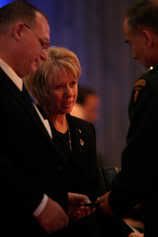 Please keep Jeff and Peggy Hubbard in your prayers; they have lost two of their three sons in Iraq. Please keep Jason and Heidi Hubbard in your prayers; they have lost two of their brothers.
For as beautifully touching as the funeral and internment were, as nurturing as the town's outpouring of support is, the day if over now, and they are left with their memories ... with two gaping empty places.
The young dead soldiers do not speak.

Nevertheless, they are heard in the still houses: who has not heard them?

They have a silence that speaks for them at night and when the clock counts.

They say: We were young. We have died. Remember us.

They say: We have done what we could but until it is finished it is not done.

They say: We have given our lives but until it is finished no one can know what our lives gave.

They say: Our deaths are not ours; they are yours; they will mean what you make them.

They say: Whether our lives and our deaths were for peace and a new hope or for nothing we cannot say; it is you who must say this.

They say: We leave you our deaths. Give them their meaning. We were young, they say. We have died. Remember us.

-- Archibald MacLeish
Labels: War in Iraq