Union Says, "I Like Mike"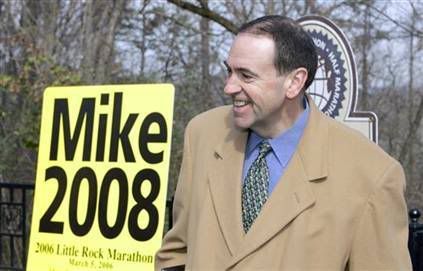 T
he more I read about Mike Huckabee, the more I like him; he's no longer just the guy who lost a lot of weight, he's a good candidate, if not exactly a heavyweight.
Today, he picked up big new cred, becoming perhaps the first GOP prez candidate to get a union endorsement:
WASHINGTON (Reuters) - One of the biggest U.S. trade unions made an unusual dual endorsement in the 2008 White House race on Thursday, backing Democrat Hillary Clinton and Republican Mike Huckabee for their parties' presidential nominations.

The International Association of Machinists and Aerospace Workers, which has about 720,000 active and retired members, backed a candidate from each party for the first time after a recent survey found about one-third of union members voted Republican and two-thirds Democratic.
More impressive than Huckabee winning the endorsement is the IAMAW actually listening to all its members and not acting like a Dem machine. Hopefully other unions will follow suit, and hopefully IAMAW and any others who follow will make their campaign contributions accordingly.
I can think of no better action by a labor union to give it continued relevance than to acknowledge that the Dems do not speak for all their members, all the time.
The union's prez explains why Huckabee:
"Mike Huckabee was the only Republican candidate with the guts to meet with our members and the only one willing to figure out where and how we might work together."
The big rap against Huckabee is that he's
too nice
to skewer Hillary. Keep an eye on him; he might continue to surprise us.