Quote Of The Day: Lost Innocents Edition
"I don't know how many kids God has in heaven, but he doesn't need anymore from this neighborhood."
-- Maddie Culler, 11
W
e had one of those terrible, unfathomable accidents in OC on Friday at an offramp I frequently use. It's a busy one and most of the time traffic on the freeway slows before it. Everyone knows this and leaves a little extra space, but not this time.
Mom Lori Coble, 30, was driving with Grandmother Cynthia Maestri next to her in the front of the minivan and the three kids, Kyle, 5, Emma, 4, and Katie, 2, were in the back.
Jorge Miguel Romero, 37 and the father of two youngsters, was behind them in an 18-wheeler, traveling 55 to 60 miles an hour.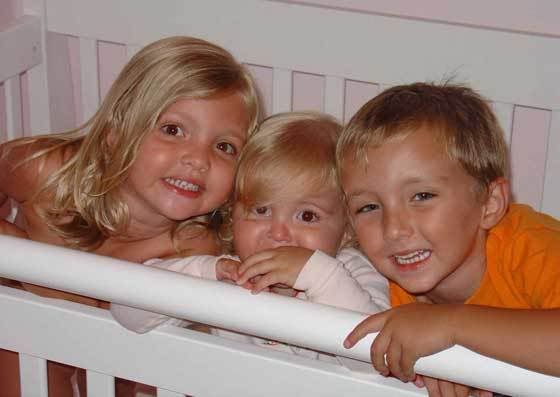 When traffic stopped, Romero didn't. One driver who was there when the crash occurred has a horrifying memory:
"It (the minivan) was like a smashed soda can. I saw the faces of the mom and grandmother as they realized and looked back at the children. … They did not have a chance."
Emma and Katie died on the scene and Kyle died a few hours later in his injured mom's arms.
The OCRegister has
a touching story
about the accident today, but no one has an answer for how it is that families like the Cobles, who lived on a street that wins the Ladera Ranch Christmas lights competition every year and who were in charge of this year's Easter block party, have to suffer tragedies like this.
We all have our answers -- there is a God, there is no God -- but fortunately for the Cobles, they believe there is a God, and in Him they may find a comfort we cannot imagine they could ever feel.
Labels: Christianity