Quote Of The Day: Holy (Baloney!) Matrimony Edition
"This is bad news for marriage and the voters of California who already passed a state law reaffirming that marriage is a natural and beautiful institution between a man and a woman."
-- Randy Thomasson, VoteYesMarriage.com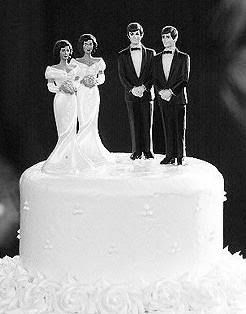 I
n a move that should surprise no one, the California Supreme Court has said the vote and will of the people mean nothing to it -- it's going to review a lower court decision finding the state's ban on gay marriages to be legal.
Nearly two out of three California voters voted in favor of Proposition 22 in 2000, saying they thought it was just fine and dandy to declare marriage as a union between a man and woman.
Against all those people stand just 20 same-sex couples from San Franciso (natch!) who want their viewpoint to prevail and are turning to the courts in the hopes they'll overrule the people.
Given all the other issues of the day, I'm not hysterically overboard on the gay marriage issue, although I'm definitely on the "protect marriage" side of the argument. But I am hysterically overboard about the will of the people being quashed by liberal judges and hyper-liberal minorities.
Like the Whore of Babylon, California is beautiful on the outside but rotten on the inside -- with all blame for that laid at the feet of our legislature and courts, who have mainstreamed the fanatic, self-centered fringe elements of our society and made the true mainstream into pariahs.
A decision on the case is not likely until late in 2007 -- and if the state's supreme court tosses out traditional marriage, it will be quite a stage-setter for the 2008 election.
Source: SacBee
Related Tags: Gay marriage, Politics, Courts