No Hawks For Pelosi
F
lower Power Pelosi reportedly is not going to let chairmanship of the key committee on matters Iraqi fall into the hands of someone who's (
oh no!
) worked cooperatively with the GOP:
Democratic Party sources said as House Speaker, Ms. Pelosi plans to block moves that would place hawks into important chairmanships. The sources said a key casualty would be Rep. Jane Harman, a six-term member of Congress who has cooperated with Republicans on the House Intelligence Committee.

"Nancy Pelosi wants total party discipline," a source in the Democratic Party leadership said. "If you played ball with the Republicans during this session, then you're not going to be given an important chair in the next session."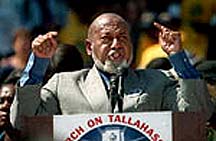 According to the source of that quote,
InsightMag
, Pelosi's leaning towards #2 or #3 on the committee -- impeached fed judge now Congressman Alcee Hastings (FL, left [for a reason]) or Silvestre Reyes (TX). The Black Caucus wants her to name Hastings, natch.
One odd thing about all this is that Harmon's staffer Larry Hanauer is the only person named thus far as the
probable leaker of the National Intelligence Estimate report
-- the leak that stopped GOP momentum in its tracks and let the Dems fan the flames of Iraq discontent.
I certainly don't want her to get rewarded for having her staff leak a confidential document, but Pelosi's reported willingness to pass her over indicates that Hanauer may not have been the source after all ... or that he may have been and Harmon was not involved. Well, it doesn't matter anyway because the leaking of the NIE most assuredly will not be the target of a Congressional investigation now that the Dems are in control.
In a comment sure to rile up the easily rile-able Black Caucus, InsightMag quotes defense analyst Loren Thompson:
If Nancy Pelosi's apparent determination to deny Jane Harman the chairmanship of the House Intelligence Committee to appease the Black Caucus is any indication, Democratic control is not going to be good news for those who believe in competent oversight of the national-security apparatus.
Yeah, but if you're
not pursuing victory
, who needs competence anyway?
Related Tags: Pelosi, Democrats, Congress, Harmon, Hastings, Iraq, War on terror