Hillary's Dubai-ous Protests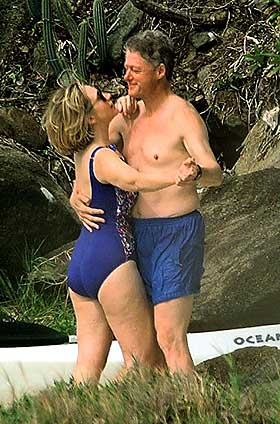 Hillary hates the Dubai Ports deal. She says it threatens port security, and she's pushing for legislation to stop it.
Nevermind that Bill had much more dangerous ideas about selling out most of the West Coast's port operations to China's government-owned shipping company. Here problems with her position are much more current, and should jeopardize her ambitions to be president.
The Financial Times
reports:
Hillary Clinton, a leading opponent of DP World's takeover of some US port operations, was this week forced to admit that she did not know her husband had advised Dubai leaders on how to handle the growing dispute.

But former President Bill Clinton's ties to Dubai and the United Arab Emirates should not have come as a surprise to his New York senator wife.

Mrs Clinton's own senatorial financial disclosure forms reveal that her husband earned $450,000 giving speeches in Dubai in 2002.

Officials from the UAE also donated between $500,000 and $1m to fund Mr Clinton's presidential library in Arkansas.
This story should abort Hillary's still-fetal presidential campaign, because it shows either that she has no control over, no care about, or complete secret complicity with, her husband's internationalist efforts. Whichever is right, it shows that she is incapable of being president in times as dicey as this.
But whether it will derail her or not is dependent in large part on the media. So far, according to Nexis, the story is second-tier: Financial Times, New York Daily News, Chatanooga Times Free Press, a few others.
Nothing in the NYTimes, the LATimes or WaPo. If the New York Daily News can have the story, why can't they? The answer is obvious: They can.
If the story doesn't hit the bigs soon, it'll just be another case of MSM facilitating the campaigns of their favorite candidates.



hat-tip:

Martin's Musings
Related Tags: Dubai, Ports, Hillary Clinton, Bill Clinton, MSM