How To Take Down A Terrorist Insurgency
T
he Global War on Terror is just that, global, as evidenced by Columbia's recent attack on Farc rebels in Ecuador. Think Columbia as Israel taking out Hamas thugs in Gaza. Think Venezuela as Iran supplying terror militia in Iraq.
Pull off the layers of Columbia's attack and you see how the Global War on Terror can succeed in destroying even decades-old terror organizations.
"This is a definitive blow to the guerrillas and one which will seriously affect their cohesion as an organisation," Roman Ortiz, an analyst with the Bogota think tank Ideas for Peace Foundation, told
BBC
.
With the attack, a member of Farc's ruling Secretariat has, for the first time, been killed in action. Other members of the Secretariat who have died have succumbed to old age, giving FARC an aura of invincibility.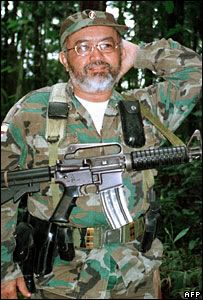 But the death of Secretariat member Paul Reyes is a significant blow for more reasons than just that he was a FARC Secretariat member. The BBC report explains:
The [Columbian] government has set up a network of informants, runs reinsertion packages for deserting rebels and offers handsome rewards for information.

In the past few days, almost $900,000 was paid for the capture of a Farc commander with 35 years of service.

All this is combined with technology and communication intercepts provided by Washington.
Inciting desertion, infiltrating high levels of Farc, paying off informants ... and having the powerful resources of the US behind you: Priceless.
Against this united front, Farc is by no means dead, but it is crumbling as never before.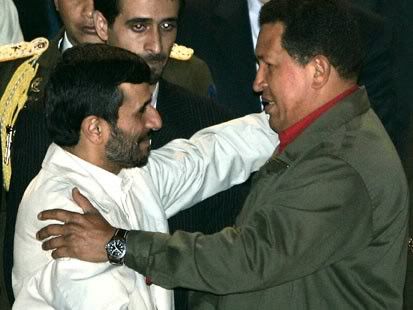 In
Tehran
Caracas, Chavez can bluster, but bluster only goes so far, as we learn from Venezuela News & Views:
Apparently Chavez has been silent today, probably realizing that he shot enough his foot and that others should come to the forefront to fix things up some. Unfortunately once upon a time he had an operator like Jose Vicente Rangel who could not fix much inside Venezuela but who at least could present some more credible image to the foreign observers. Now Chavez has only [foreign minister Nicolas] Maduro and Rodriguez Chacin, a failed bus driver now foreign minister and a thug now Interior and security minister.

Maduro went to the National Assembly. He made a cheap chauvinistic act, criticized the Venezuelan opposition for not rallying the way the Colombian one was doing around Uribe (I kid you not), spoke of all sorts of things that seemed like coming from Cliff notes from the Cuban staff in Venezuela (they were that dated), and climaxed announcing that Venezuela had asked all the Colombian embassy staff to leave the country. Not a complete break up but same difference.
Pretty pathetic. As Hugo's boys try to rally a tired and disgusted nation behind them -- finding it a tough slog, indeed -- Columbia's president plays intelligently on the global stage:
Colombian President Alvaro Uribe says he will ask the International Criminal Court to bring charges against President Hugo Chavez of Venezuela.

Mr Uribe said he would ask the Hague court to bring charges of "financing genocide". Colombia accuses Venezuela of backing Farc rebels. (BBC)
Back to Daniel at
VN&V
:
Colombians know a good thing when they hold it, they are forging ahead, revealing what they know, and not getting at all in the ridicule tit for tat that the other guys want to drag them into. No matter what tantrums Chavez and Correa throw, and what the rest of Latin America might hold in particularly fake crocodile tears, the Uribe staff is in control.
A now much-maligned president once said, "You're either with us or against us." Uribe and Chavez have picked their sides, Uribe with us, Chavez with Farc, and we're seeing the consequences.
Labels: Hugo Chavez, Venezuela, War on Terror