Quote Of The Day: Hooray For Havarti Edition
"We are not the ones to apologize. If anyone needs to apologize for freedom of speech, human rights, imprisonments, executions and lack of democracy, it is the Iranians."
-- Villy Soevndal, Denmark Socialist People's Party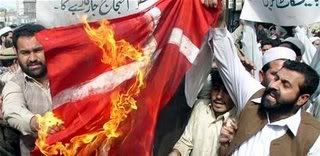 I
chatted with a Danish woman at the airport the other day, and was impressed with the national pride she felt when I brought up the subject of Denmark's stand against Islam.
She must be feeling particularly proud, reading
this
, from BBC:
Danish MPs have cancelled a trip to Iran after Tehran demanded they apologise for the republication of cartoons deemed offensive to Islam.

Two days before the scheduled trip, Tehran demanded the MPs condemn the cartoon on their arrival in Iran.

The row follows the arrest on Tuesday of three men for allegedly planning to murder cartoonist Kurt Westergaard.

The following day, 11 Danish papers reprinted his drawing depicting the Prophet with a bomb in his turban.

A condemnation and apology would help convince the Iranian people that Denmark's authorities had distanced themselves from the action, Iran's parliament said in a letter to Danish MPs.

Nine members of Denmark's foreign affairs committee were due to arrive in Iran on Monday for a three-day trip focusing on human rights and the Islamic Republic's nuclear programme.

The Danes' response is in the quote marks above.
So go out and buy some
Havarti cheese
or a nice set of
Bing & Grondahl
plates, and say thinks that there's at least one country in Europe that's standing up to the Islamists.