Mughniyeh Lionized By Iran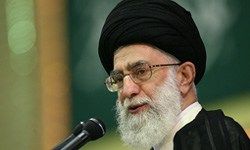 T
he soul of the Islamist revolution was there in all its putrid decay for the world to see, as the Supreme Leader of the Islamic Revolution, Ayatollah Seyed Ali Khamenei, eulogized Imad Mughniyeh, the dead Hezbollah terror-chief.
"I offer my condolences on this great martyrdom to you, his family, the glorious Hezbollah youth and all Lebanese," Ayatollah Khamenei said in the message to [Hezbollah Chief Seyed Hassan] Nasrallah after the killing of Imad Mughniyeh.

"It should make the Lebanese people proud to have given the world such great men in the fields of seeking freedom and fighting cruelty," he said. (Fars)
There's guilt aplenty to go around, but if Lebanon wanted freedom and wished an end to cruelty, all that would have to happen is for Hezbollah to let it occur. It is their inability to live with anyone who doesn't share their beliefs that is most responsible for tearing the country apart -- and that inability to live with others is best personified by Nasrallah and Mughniyeh ... and a few thousand others, according to the Lebanon Daily Star's
report on the Mughniyeh funeral
:
A congregation of thousands, ages 7 to 70, attended the service at the 20,000-seat mosque complex. Occupying all the seats, standing shoulder-to-shoulder, climbing on girders and sitting on scaffolding, they filled the football-pitch-sized corrugated facility to its maximum capacity. Outside the complex, thousands more thronged the streets, waiting to pay their respects to their beloved martyr, Mughniyeh. ...

"We are all your servants, Nasrallah!" the crowd in the packed compound cheered, as they pounded their fists into the air above their heads. ...

Chants of, "Death to Israel! Death to America!" roared through the Hizbullah stronghold as a dozen pallbearers carried Mughniyeh's coffin through the narrow streets of the southern suburbs. ...

Mourners who attended the funeral ceremony pledged their readiness to fight Israel to the death and die as martyrs.

"We are only waiting for a sign from Hassan Nasrallah to fight Israel until death," said Ali Zeidan, 28.

"We are ready to follow the example of Imad Mughniyeh and the other martyrs" who fought Israel, he added.
The Islamists have proven that there always has been another to step up to fill, or try to fill, the shoes of the departed
martyrs
Hell-bound pieces of filth. To stop that cycle, we can keep taking out their leadership as fast as a new one comes on the scene, as US forces have done with al-Qaeda in Iraq. Or I suppose we could try appeasement, or ignoring them and hoping they'll go away.
Labels: Hezbollah, Lebanon, War on Terror