Obama And The Crooked Iraqi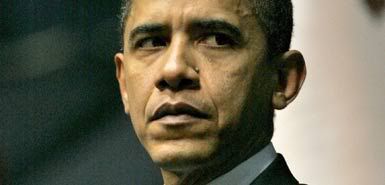 I
t appears there's smarm aplenty in Barack Obama's new Camelot, as evidenced by this
Times of London story
from tomorrow's edition about Obama's dealings with an Iraqi billionaire who once worked for that other guy with "Hussein" in his name:
A British-Iraqi billionaire lent millions of dollars to Barack Obama's fundraiser just weeks before an imprudent land deal that has returned to haunt the presidential contender, an investigation by The Times discloses.

The money transfer raises the question of whether funds from Nadhmi Auchi, one of Britain's wealthiest men, helped Mr Obama buy his mock Georgian mansion in Chicago.

A company related to Mr Auchi, who has a conviction for corruption in France, registered the loan to Mr Obama's bagman Antoin "Tony" Rezko on May 23 2005. Mr Auchi says the loan, through the Panamanian company Fintrade Services SA, was for $3.5 million.


Three weeks later, Mr Obama bought a house on the city's South Side while Mr Rezko's wife bought the garden plot next door from the same seller on the same day, June 15.
What is Auchi, who lives in London, doing giving money to Obama? To determine who he is, don't spend much time on the Wikipedia entry on him, which was obviously placed by his PR minions, with passages like:
In recognition of Nadhmi Auchi's extensive business, charitable and humanitarian activities across the world, numerous awards and honorary positions have been bestowed on him, including a number of Royal and State decorations.
But even so, there are things to be gleaned from the entry. Most interestingly, he worked for Saddam Hussein's Ministry of Oil before setting up his own company, intriguingly based in the laissez faire business back room of Luxembourg. He is also the longstanding president of the
Anglo-Arab Organisation
(the link is to a Web site that's under construction). At one A-AO event, he
said
:
"What is happening in the Middle East is not acceptable or justified in any way, and I would like to appeal here from this stage to all international government which have influences in the Middle East to gather and stop this bloodshed and massacre."

Massacre? Is he talking about how Arabs are massacring innocent Israelis with their suicide vests? Well ...
"Dialogue is the only way that can get us together out of this problem. We reiterate our role as an organization in building the dialogue bridges between Arab and Moslems on one side, and Britain, Europe and the West in general on the other side".
Notice who's missing from the dialog? There appears to be no room for Israel in the thinking of this man who extended such largess to a certain Chicago politician with a Muslim name (even though we know he's a Christian!).
Oh, and then there's little note at the bottom of the Wiki that has thus far escaped scrubbing by Auchi's minions:
Auchi has been convicted of fraud in France. Several US political fundraisers are currently on trial for corruption in connection with loans received from Auchi. Auchi is currently barred from entering the US by the state department as an undesirable alien.
The entry is sourced to
this St. Louis Today news item
about Auchi's gifts to Illinois' Dem Gov. Rod Blagojevich, via Blagojevich's federally indicted fundraiser Christopher Kelly.
Back across the pond, The Guardian has
a piece that rails against Auchi
so strenuously it's earned a notice at the top that says Auchi "disputes the contents of the article below and requests that it is not relied upon as an accurate source of information about him."
That blurb was obviously placed as a result of threats from Auchi's attorneys. No wonder. Here's the lead:
[Auchi] was charged in the 1950s with being an accomplice of Saddam Hussein, when the future tyrant was acquiring his taste for blood. He was investigated in the 1980s for his part in alleged bribes to the fabulously corrupt leaders of post-war Italy. In the 1990s, the Belgium Ambassador to Luxembourg claimed that Auchi's bank held money Saddam and Colonel Gadaffi had stolen from their luckless peoples. In 2002, officers from the Serious Fraud Squad raided the offices of one of Auchi's drug companies as part of an investigation of what is alleged to be the biggest swindle ever of the NHS. With allegations, albeit unproven, like these hanging over him, wouldn't you think that British MPs would have the sense to stay away?
Wouldn't state senators from Illinois who are now bucking for a seat in the Oval Office also have the sense to stay away? Apparently not.
We should be hearing a lot more about Obama's anti-Israel, Arab, former Saddam Hussein employee benefactor. We
should
. Let's see if the New York Times, so quick to smear McCain, will pick up this story.
Labels: 2008, Democrats, Nadhmi Auchi, Obama, Politics