"This Was An Honor Killing"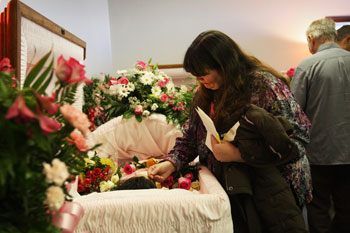 S
arah and Amina Said were buried yesterday -- matching pink caskets at a Baptist, then a Muslim, funeral -- while their father, who shot the two teens to death because he was upset about their dating, remained on he lam.
The Dallas Morning News
write-up
includes this:
Gail Gartrell, the sisters' great-aunt, said Saturday that Mr. Said had physically abused the two girls for years. Around Christmas, the girls' mother – Ms. Gartrell's niece – had fled because of Mr. Said's threats to kill the girls after he learned they had boyfriends, she said.

"She ran with them because she knew he would carry out the threat," Ms. Gartrell said. "This was an honor killing."

She said her niece returned after Mr. Said told her that he would move out so they could reconcile. Within a few days, she said, the girls were dead.
At the Muslim service, an Imam said that
families being the most important thing in Islam and the need for parents to work to keep their families strong. How about it, Muslims? Is this going to be your creed, or is honor killing?

Labels: Amina Said, Crimes, Honor killings, Islam, Sarah Said