Obama's Slime Starts To Show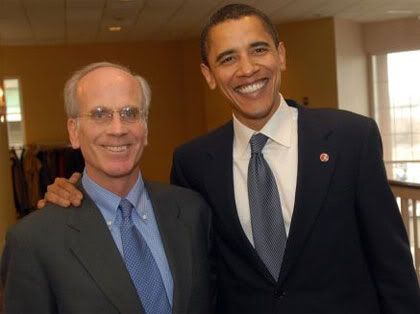 Y
es, it's just one paragraph in a 78-page federal court document, but here comes evidence that Barack Hussein Obama may not be as clean as
Joe Biden thinks he is
. From his hometown
Chicago Sun Times
:
Obama is not named in the Dec. 21 court document. But a source familiar with the case confirmed that Obama is the unnamed "political candidate" referred to in a section of the document that accuses Rezko of orchestrating a scheme in which a firm hired to handle state teacher pension investments first had to pay $250,000 in "sham" finder's fees. From that money, $10,000 was donated to Obama's successful run for the Senate in the name of a Rezko business associate, according to the court filing and the source.
Tony Rezko is an old-fashioned Chicago king-maker who's now under federal indictment on corruption and fraud charges. He who was a member of Obama's old senatorial finance committee. Besides the charge outlined above, the feds have evidence of a similar scheme (or schemes) with "'at least one other individual."
While Rezko probably violated federal election law with this scumminess, there is no evidence in the document that Obama was aware of what Rezko was up to.
And, of course, there's no evidence that he wasn't.
Obama has returned $44,000 of Rezko-tainted money and his staff is issuing "there's no way he could have known" statements. Their statements have a vary high chance of being baloney. Smart politicians know who who the dirty operatives are, especially at the state level, so Obama should have known that anything Rezko raised was potentially tainted.
That may seem brash, but read through this history from the Sun-Times article and you'll see that there's ample evidence that Obama knew Rezko could deliver, and that what he delivered might not be all that nice:
Rezko is one of Obama's earliest political patrons. Long known as a prolific fund-raiser, the Syrian-born businessman helped raise money for Obama's political campaigns beginning in 1995, when Obama was running for the Illinois Senate.

In 13 years in politics, Obama has gotten at least $168,000 in campaign donations from Rezko, his family and business associates. The Sun-Times reported that figure last June. Obama's "best estimate" seven months earlier had been that Rezko had raised no more than $60,000 for him.

When Obama ran for the U.S. Senate, Rezko held a June 27, 2003, cocktail party in Rezko's Wilmette mansion, picking up the tab for the lavish event. Obama's campaign staff has said it has no records to show who attended that party, or how much it cost.

Obama's relationship with Rezko dates to 1990, when Obama, then a Harvard law student, interviewed for a job with Rezko's development company, Rezmar Corp. Obama turned down the job, instead going to work for a small Chicago law firm — Davis Miner Barnhill. That firm did work on more than a dozen low-income housing projects Rezmar rehabbed with government funds.

Eleven Rezmar buildings were in the state Senate district Obama represented between 1996 and 2004. Many of the buildings ended up in foreclosure, with tenants living in squalid conditions, the Sun-Times reported last year. In one instance, Rezko's company left tenants without heat for five weeks. Obama said he was unaware of problems with the buildings and minimized the legal work he'd done.

Obama's relationship with Rezko grew closer in June 2005, when Obama and Rezko's wife bought adjoining real estate parcels from a doctor in the South Side Kenwood neighborhood. Obama paid $1.65 million for the doctor's mansion, while Rezko's wife paid $625,000 for the vacant lot next door. Obama's purchase price was $300,000 below the asking price; Rezko's wife paid full price.
Obama had to apologize for that real estate deal later, but only after the details of the transaction appeared in the press.

And for the pan-bangers out there, did you note that Barack Hussein Obama's political benefactor is ... Syrian?
hat-tip: memeorandum