Watcher's Winners
T
here were two run-away winners this week in the
Watcher of Weasel
's Weekly Whatever, both very, very well worth your read.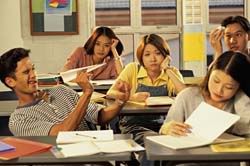 Among the Watcher's Council entries, The Colossus of Rhodey's
Ed Schools: They're Awful (for the most part)
got 3 1/13 more votes than the runner-up. This critique of what's wrong with our education system is illuminated by Rhodey's higher ed and classroom experience – which is what makes it so frightening and depressing.
Among the non-Council entries, Ezra Levant's
Kangaroo Court
received 4 1/3 more votes than the runner up. A foaming-mouth radical Muslim Imam has charged Levant with a hate crime for publishing the Mohammed cartoons in his printed and on-line magazines. The post presents his introductory statement to the Alberta (What Human Rights?) Commission, which is an eloquent call to Canada to regain its sanity and freedoms before they is lost forever.
Another entry,
Ashamed to be Canadian!
, reports more on Levant's hearing.
Council runner-up was Wolf Howling's
Liberal Guilt and Our Next President
, which I thought too long by at least 25%, is nonetheless a straightforward, detailed look at the role of Liberal sick-think in the presidential campaign.
My piece,
500,000 Iraqis Did Not Die
, tied for third.
See all the winners
here
.
Thanks, Watcher, for opening the Dewey Decimal file cabinets of our minds.
Labels: Watcher's Council