Clinton The Forceful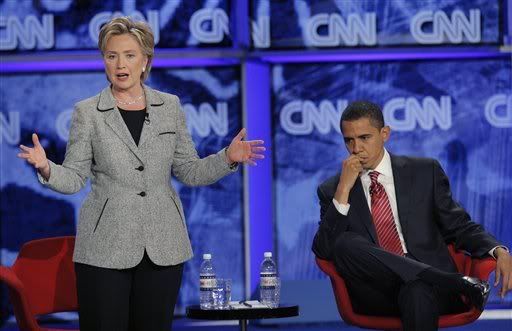 I
t seems Hillary Clinton found her strong and forceful side in Las Vegas last night -- but it wasn't in expressing her views, it was (natch!) in accusing her opponents of sharing her sins.
Here's a typical exchange:
Obama was the first to challenge Clinton, saying it took two weeks to "get a clear answer" on whether she supports or opposes issuing driver's licenses for illegal immigrants. "The same is true on Social Security," he said.

For the first time in a debate since the campaign began, Clinton swiftly answered in kind. "When it came time to step up and decide whether or not he would support universal health care coverage he chose not to do that," she said of Obama.(AP)
It's obvious her messaging team has been pulled off its assignment of
writing questions
for
college students
to ask her and tasked with prepping her for the debate.
Pulling out the Clinton Political Manual, they followed protocol and did not answer the question, opting instead to get in the face of their opponents. And its there where Hillary shines. Pull off her muzzle, unclip the chain, and she is always good for a bit of verbal viciousness.
So did the Dems get insights into HRC's decisiveness as the dead-heat Iowa caucuses approach? No, of course not. They just got insight into the character of the woman who was once the undisputed frontrunner among the Dem Prez nominees.