Let's Keep Ahmadinejad Away From The WTC!
T
ry as you will, you won't be able to draw a direct line from Tehran to 9/11. The crazy, rights-tromping, Jew-hating Shi'ia extremists of Iran's revolution may have applauded the results, but they can take no credit for it.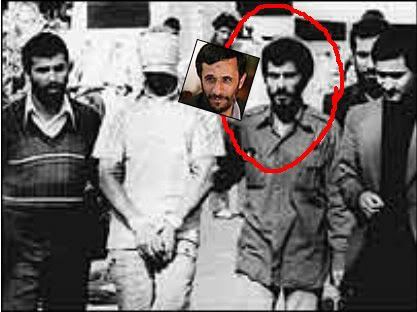 That doesn't mean Mah-
I'm in the
-moud
for insulting the memories of 3,000 dead Americans
Ahmadinejad (rhymes with "I hope my security detail's iron-clad") should
visit Ground Zero
at the World Trade Center when he sets his defiling feet on our shores next week. He is one of the leaders of the other side in the War on Terror, a war that started, really, when he and his cohorts seized the American Embassy in Tehran, and broke out into the open on the hallowed ground he wishes to dishonor with his visit.
Here's an idea for patriots, human rights advocates, separation of church and state radicals, Christians, Jews and the long-sought moderate Muslims alike: Turn out in force and clog every single street leading up to the WTC next Wednesday morning at 10 a.m. Load up with signs full of clever, powerful, even nasty, slogans telling Ahmadinejad what we think of him and his hateful kind.
Give him a taste of free speech.
Let him see a free nation at work protecting its honor.
Let him feel the power of the people.
Then let him slink back to Tehran, more afraid than ever that someday soon the people he
leads
oppresses will rise up against him and his crazed Islamist ilk.
As an interesting aside to this story, take a moment to compare the statements from the two prez candidates from New York:
Mayor Rudy Giuliani:

"Under no circumstances should the NYPD or any other American authority assist President Ahmadinejad in visiting Ground Zero. This is a man who has made threats against America and Israel, is harboring bin Laden's son and other al-Qaeda leaders, is shipping arms to Iraqi insurgents and is pursuing the development of nuclear weapons. Assisting Ahmadinejad in touring Ground Zero - hallowed ground for all Americans - is outrageous."
Senator Hillary Clinton:
"It is unacceptable for Iranian President Ahmadinejad, who refuses to renounce and end his own country's support of terrorism, to visit the site of the deadliest terrorist attack on American soil in our nation's history."
Who would you rather have in the White House?
Image: Jihadwatch
Labels: 9/11, Ahmadinejad, Giuliani, Hillary, Iran