It Gets Better: Hil Hustles Hsu Donors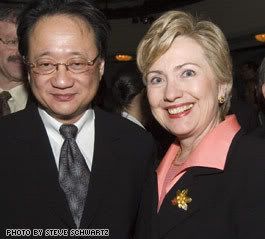 S
o Hillary's returned all that dirty,
stolen
money she got from Norman Hsu. No sooner has the saliva dried on the envelopes holding those checks than we get
this
:
Sen. Hillary Rodham Clinton, whose campaign is returning $850,000 in contributions linked to disgraced fundraiser Norman Hsu, indicated Wednesday that donors who contributed that money could donate to her presidential campaign once again.

"We're not asking that that be done," she said in a teleconference with reporters. "But I believe that the vast majority of those 200- plus donors are perfectly capable of making up their own minds about what they will or won't do going forward."
This is rich. It's obvious to anyone who doesn't have her nose up the butts of contributors that Norman Hsu donors were basically two people: Norman and Hsu. Folks one step up from a tar paper shack just don't have a couple extra thou laying around to give to anyone, even someone as deserving as Hil.
Anyone who thinks Bill Clinton's better half doesn't have the bejangles to be president better think again. Does she have the morality? That's another question.
Labels: 2008, Campaign contributions, Democrats, Hillary, Hsu, Politics