Hsu Stiffed Woodstock Founder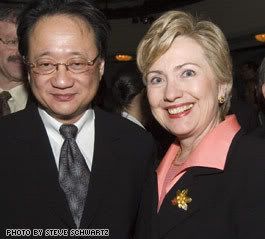 T
he Wall Street Journal has the answer to a question a lot of embarrassed Dems (and, hopefully, federal investigators) are asking:
Where did Norman Hsu get his money?
The answer is fascinating. By the time he got to Woodstock, Hsu was $40 million strong.
That has been one of the big questions hanging over the prominent Democratic fund-raiser, as reports have surfaced about hundreds of thousands of dollars he made in political donations, plus lavish parties, fancy apartments and a $2 million bond he posted to get out of jail earlier this month.

New documents reviewed by The Wall Street Journal may help point to an answer: A company controlled by Mr. Hsu recently received $40 million from a Madison Avenue investment fund run by Joel Rosenman, who was one of the creators of the Woodstock rock festival in 1969. That money, Mr. Rosenman told investors this week, is missing.
Rosenman, who was a venture capitalist when he funded Woodstock and remains a venture capitalist today, got suckered by Hsu, who promised him a 40 percent return on clothing manufactured in China for Gucci and others. Rosenman fell for it, and WSJ spells out the consequences:
Mrs. Clinton's campaign said on Monday it would refund all of the donations made or raised by Mr. Hsu. More Democrats announced yesterday that they would dispose of funds that Mr. Hsu gave or raised, including Rep. Kirsten Gillibrand of New York ($25,000), Sen. Edward Kennedy of Massachusetts ($35,000), Louisiana Sen. Mary Landrieu ($11,700), Montana Sen. Jon Tester ($4,750), Missouri Sen. Claire McCaskill ($20,700) and Pennsylvania Rep. Joseph Sestak ($2,500). Others have given their money to charity, including Manhattan District Attorney Robert Morgenthau, whose campaign received $2,000 in March from Mr. Hsu.

More Democrats are expected to follow. A Wall Street Journal analysis of campaign finance reform records has linked Mr. Hsu with at least $1.8 million in donations to Democrats since 2004.
I've felt that Hsu was brokering political influence for China, but if this is the bottom of the story, then may be just a loathsome guy who squandered another guy's money in true con man fashion. This would appear to be bad news for anyone wanting to see a Dem meltdown because getting hustled by a very capable con man is very different that selling out to the very ruthless Communist Chinese.

But it's not the end of the story, because Hsu is more than a con man; he's also a bundler. In this case, he appears to have "given" pieces of Rosenman's investment funds to others to give back to him in a bundling scheme. Campaigns are supposed to be wary and watchful of bundlers, but the Dems obviously weren't -- and not only did they accept bogus bundles, they accepted stolen property of considerable value, which last time I checked was a felony.
And that raises a new question, which the Capt. phrased quite nicely:
And if that was the point, why would Hsu bring all of this attention to himself by engaging in high-profile political fundraising? If theft was the point, it makes no sense. If influence and money-laundering was the point, who intended to benefit from it? Rosenman has his own connections to the Clintons and others. Who fronted Hsu?
Rick Moran at
Right Wing Nut House
focused on this line from the WSJ report:
Yesterday, the campaign insisted it did all it should to vet Hsu after California businessman Jack Cassidy warned in June that Hsu's investment operation was fishy. Cassidy e-mailed his tips to the California Democratic Party, which forwarded them to the Clinton campaign.
"But," says Moran, "the question the Justice Department is going to want answered is who in Mrs. Clinton's campaign knew about the Cassidy warning and then failed to adequately vet Hsu's shady dealings? Or, more troubling, discovered Hsu's history and still took the money anyway."
hat-tip: memeorandum