Quote Of The Day: Paint It Black Edition
"I believe that black artists have the right to interpret ourselves first. If nobody steps up to the plate to do that, then certainly pass it along to someone else."
-- Black artist Gilbert Young
G
ilbert Young is so angry that he's started a protest Web site (
King Is Ours
) where he attacks another man because of his race, and attacks his brothers for making a decision that was
not
made on racial grounds.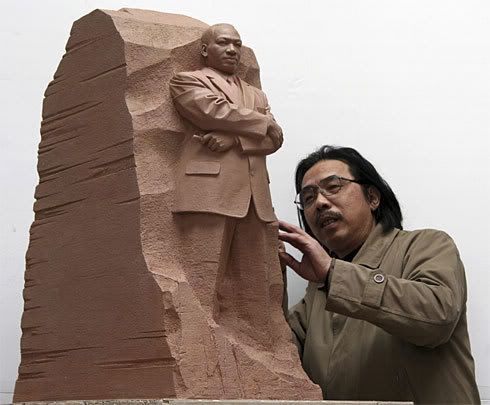 Granted, it's a humdinger of an eyebrow-arching decision: The artist selected by the MLK Memorial Foundation to sculpt the Martin Luther King, Jr. memorial in Washington DC is not black, not even American -- he's Chinese.
The foundation defends its selection:
The memorial foundation directing the project seems surprised at the criticism. Ten of the 12 people on the committee that chose the sculptor, Lei Yixin, are black. Lei is working closely on the design with two black sculptors in the U.S., organizers said, and the overall project is being directed by a black-owned architecture firm. (USAToday)

Lei Yixin apparently won the competition fair and square; he is after all, one of only nine artists in all of China who are considered "masters" by the government. As such, his commissions have included hero-statues for very unheroic men, men who have oppressed in the name of Communism.
I understand where Young is coming from because it would have been an uncontroversial decision to pick a black artist for the job, and we would have been treated to a great symbolic gesture as one of our most hallowed pieces of real estate -- between the Lincoln and Jefferson monuments -- was entrusted to the hand of a black artist.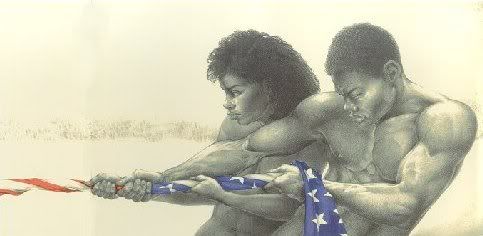 Certainly, Young (see
here
for more samples of his work like the one above) has an easy point to argue and he argues it very well:
Is it that Alpha Phi Alpha, one of the country's oldest African American fraternities, and the executive staff of the King Memorial project—also all black, and the Memorial Foundation Leadership, could not find one African American sculptor good enough to create a likeness of King? That's crazy. You best believe, there is not ONE national memorial, not ONE monument to a leader or historical event in China, Russia, France, Italy, India, Germany—go ahead and name them all—that has the name of an African American artist engraved in its base. It's probably not that they don't like us or appreciate our abilities. It's that a commission of such importance is a legacy for a country and its countrymen. Why should the King Monument be any different?
But his position ultimately is untenable against the teachings of Dr. King, who preached that America should be race-blind (among other less laudable positions).
More resonate than Young's are the complaints of Ann Lau and her comrades who push for human rights in China. Pointing to Yixin's statues of Mao and the fact that the MLK granite will be cut from a mine where worker's rights and safety are likely not high priorities, she said,
The whole thing is wrong. We are going to be permanently connecting Dr. King with someone whose ideology is totally opposed to Dr. King's ideology.
And that's where I settle on this: I would have preferred if the foundation had accepted a black artist, but given Dr. King's teachings, I can't fault them; and I understand that many blacks won't care one bit what one pampered white man has to say about it; and I think their judgment wouldn't score too high on Dr King's scale, and I believe in my heart that it is very wrong to do anything to glorify the current regime in China.
It would have moved Dr. King greatly if somehow the Communist functionaries were moved to change their ways when they first see Yixin's statue, but that most certainly is not going to happen, so the MLK Memorial Foundation ultimately has wasted a very important opportunity for positive symbolism.
Labels: America, Martin Luther King, Racism