Ecos Chilly On Gore's Chilean Seabass Choice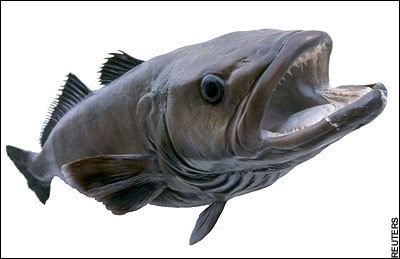 B
etween the white rhino pate course and the bald eagle fricassee with wild rice ...
Al Gore, the world's most high profile green campaigner, was at the centre of an embarrassing row yesterday after the serving of a rare fish at his daughter's Beverly Hills wedding.


Just one week after Live Earth, his global musical spectacular [flop] to raise awareness of environmental issues, the former vice-president attended a rehearsal dinner for his daughter's marriage that featured Chilean sea bass. Sarah Gore, 28, a medical student, was married to the Los Angeles businessman Bill Lee at the Beverly Hills Hotel on July 14.

The night before the wedding, People magazine reported, the Gores were at a dinner for 75 at the nearby Crustacean restaurant where a six-course tasting menu included Chilean sea bass - also known as Patagonian toothfish.

The reaction was swift: writing in in the Australian Daily Telegraph, Rebecca Keeble of Humane Society International, a conservation pressure group, complained of the danger to the species from "from illegal, unregulated and unreported fishing activities".

She noted that "more than 50 per cent of toothfish traded is illegally caught, and includes juveniles vital to the ongoing toothfish population". She called on the US government to help crack down on illegal fishing by sanctioning Spain for allowing its nationals to fish illegally for the species in conservation areas.

And in the meantime, she acidly suggested, "Al Gore could choose something else to eat". Her attack on the former vice-president, and his implied hypocrisy, were rapidly picked up by bloggers around the world. (The Telegraph)
Well, not rapidly picked up by this particular vacationing blogger, but I pass it along nonetheless.

I would like the goods on that wedding ... I bet its carbon footprint was massive, but Al's not really one of us, you know. He's one of the ones that knows what's right for us, even though it's not right for him.
Labels: Al Gore, Climate change, Global warming