A Dead Dadullah On Mother's Day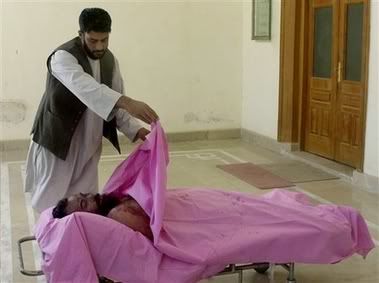 W
hat a lovely shade of purple, like wrapping paper on a Mother's Day gift -- and quite a gift this is, the dead body of Mullah Dadullah, the Taliban's top general.
Here's a guy the planet could have done without, described by
AP
as "a one-legged fighter who orchestrated an ethnic massacre and a rash of beheadings."
Par for the course for the Taliban. He's the second big loss for the Taliban; in December, a U.S. airstrike near the Pakistan border killed Mullah Akhtar Mohammad Osmani, who with Dadullah was one of the three top lieutenants of Taliban top dog Mullah Omar.
There will be other brutal Islamist pigs to replace Dadullah and Osmani, and more vicious, evil pigs to replace them. Islam will continue to raise up jihadists who will not be content to leave their jihad to themselves, so we will fight them and kill them, and kill them, and kill them until Islam becomes a non-aggressor religion ... or until forever.