Taking A Little Off The Top Of The Campaign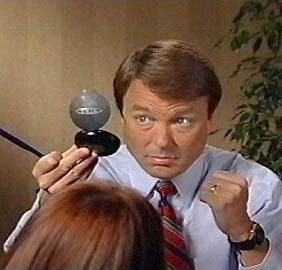 F
our-hundred and counting: Not the bucks John Edwards shelled out for a haircut, but the number of
blog hits
thus far for "John Edwards haircut 400." Not bad for a story that just an hour or so old.
When news that the "people's candidate" who talks about how awful it is that there are two Americas gets $400 haircuts hits a
blogosphere
that is generating 10 or 15 new posts a minute, then the new American politics comes into focus. Edwards is dyed in the wool self-
indulgent
. Remember when he and Kerry got caught
scarfing ritzy food
from the tony
Newburgh
Yacht Club after nibbling at the local Wendy's?
Cutey Pants just doesn't learn -- or better put, he refuses to put what he's learned above what he wants for himself.
So what about
Torrenueva
Beverly Hills Hair Design? Here's what
one reviewer
says:
I was lucky to be turned on to this place by

an agent

I worked with.

A block off Rodeo drive

, it has the atmosphere of a

truly luxurious

salon, but with a reasonable price. The staff is always extremely friendly, always remembers me, and is always happy to fit me in at short notice. They also validate parking in the building.

I'm particularly vain about my hair,

and I consistently receive the best haircuts there. There is no hurrying - they take their time, and make sure everything is perfect. I can't recommend it enough.
Sounds really nice ... if you're into Rodeo Drive and lots of pretty boys flitting around to make you feel special. It appears the
Leftyblogs
don't share his view:
wow! pretty sweet! a real man of the people.. a real progressive there! glad i didn't contribute to this campaign.... how can anyone justify spending 400 bucks on a haircut is beyond me

the most i ever paid for a haircut was about $30...i was pretty happy with it... (MyDD)
More glib is the powerful Wonkette:

John "Lonesome Rhodes" Edwards may be lagging behind

Obama

and Clinton in dollars and poll numbers, but he's miles ahead — in style!

The AP reports today, purely as fodder for us, that Edwards' campaign committee has picked up the bill for a couple of John's haircuts, two of which clocked in at an impressive $400 per.

Fans of specious political legends will be pleased to note that the AP repeats the tale of Bill Clinton's $200 dollar 1993 haircut. This news means that Edwards will be twice as great a president as Bill.

Also, gay gay gay.
I don't know who Big Banana is, but he wins the prize for the best "cutting" remark. Snip, snip, snipe:
So John Edwards spends $400 per haircut. He's also spending millions to get his ass waxed in the primaries.
Ouch. If I were John, I'd hustle over to the Pink Sapphire for a nice massage and facial.
Labels: 2008, Democrats, John Edwards, Politics