Let's Have More Of This!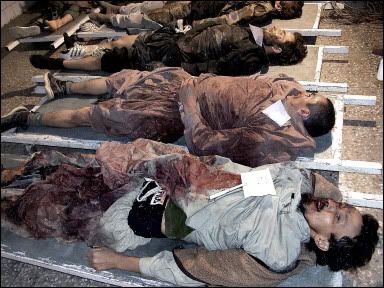 Y
ou gotta love it!
DERA ISMAIL KHAN, Pakistan (AP) - Local and foreign militants fought a gunbattle in northwestern Pakistan, leaving about 30 dead, officials said Tuesday, the second clash this month in an area where the government is urging tribesmen to move against al-Qaida-linked fighters.

The clash between Uzbek militants and tribesmen broke out near the town of Wana on Monday and continued Tuesday, a senior military official and a senior government official said. Both spoke on condition of anonymity because they were unauthorized to make media comments.

The two officials, speaking in Islamabad, said the clash was between pro-government tribesmen and foreign militants. However, a local intelligence official said the fighting was part of a feud among rival militant groups.

A clash between tribesmen and Central Asian militants in South Waziristan earlier this month killed 18 people.
Apparently, the body of an Arab who was in Pakistan with al Qaeda forces was found by his terrorist colleagues, who blamed the Uzbeks, and a goodly number of both have now met their maker -- who, it turns out, isn't who they thought He was. Neat.
Also of note: Two school children were killed and 20 injured in the fighting when a stray shell hit their school bus. Americans were not blamed for the incident.
Labels: Al Qaeda, Islamist, War on Terror