A Nguyen/Nguyen Situation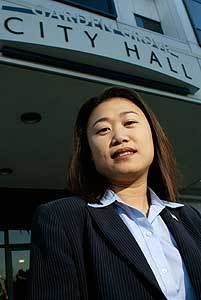 A
ctually the headline's wrong -- one of these Nguyens is going to lose.
Nguyen, pronounced "win" -- hence the headline -- is the most common name in OC, a little fact that has been great for GOP politics here since the fall of Saigon kinda turned them against Dems.
These two Nguyens are well-known here in OC, but for readers elsewhere, Trung Nguyen (a former aide to B-1 Bob Dornan) and Janet Nguyen both ran for an empty County Supervisor seat, and right now Trung's leading Janet by 7 votes and a recount's on the way.
OC's Vietnamese population makes the place fun with Little Saigon as a rare splash of funk in a pretty funk-less place and great Vietnamese restaurants on every third corner. Here's a bit of background from a post on
Red County
:
Here's a quick primer. I hope it will shed a little more light on why the Vietnamese tend to vote Republican, became unified in 1999 when a video storeowner raised Ho Chi Minh's portrait and flew the communist flag on Bolsa Avenue, and why it supported its own political neophytes over mainstream candidates. Furthermore, issues like "No Communist Zone" in Garden Grove and flying/recognizing the flag of South Vietnam are important to Vietnamese voters even though non-Vietnamese could care less.
The seat the two Nguyens are running for was held previously by a rare beast: An OC elected Dem. Technically, Supervisors' seats are nonpartisan, but you can't hide bios and voting records -- like the previous Supes' gleeful vote for a county employee pension plan that is financial lunacy.
Neither Nguyen would do that, so may the best Nguyen win.
Labels: Nguyen, OC, Orange County