25 Big Ones For Missing Maltese Falcon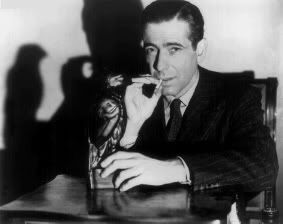 I
s Gutman on the lose again? Where's Spade? We need to get to the bottom of this!
In a missing-bird caper reminiscent of the one that perplexed Dashiell Hammett's fictional sleuth, the owner of a landmark restaurant here is offering 25 Gs ($25,000) for a replica of the famed Maltese Falcon swiped from a locked display case over the weekend.

John Konstin, the owner of John's Grill, a nearly 100-year-old restaurant with a museum dedicated to the crime novelist, said the purloined plaster statuette and 15 rare books by and about Hammett that were also stolen are emotionally priceless.

"The statue had historical significance to this restaurant and to the city," said Konstin, as he sat in a dining room framed by movie stills and Hammett mementos. "People came from all over the world to see that bird. And we want it back."
Who's tracking Joel Cairo? Where's that Wilmer weasel? And the dame ... the dame ... whatshername ... oh yeah, O'Shaughnessy ... Brigid O'Shaghnessy!
John Glionna's
piece on the caper
in the LATimes is a fun read ... but seriously, an icon of this importance -- one of the only two original props -- can't just go missing! Where's Spade??
Related Tags: American culture, Film, Cinema, The Maltese Falcon