Blood Is Thicker Than Union Activism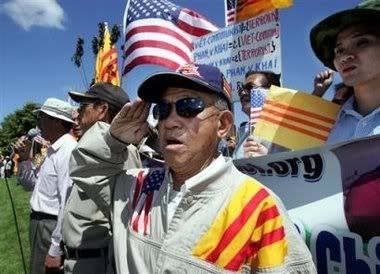 T
his is a very funny story about a very local issue, so even if you don't care a bit about what happens in OC, please read on.
I posted
a couple weeks ago about our "Ngyuen/Ngyuen" (pronounced "win/win") election to the OC Board of Supes, where two GOP Vietnamese candidates, Janet Ngyuen and Trung Ngyuen, are locked in a very tight recount. The third candidate, Dem Tom Umberg, was trying to sneak in on union votes and is nowhere to be seen: distant, distant, distant.
With that background, here's the funny post from
Red County
:
I was chatting with OCEA General Manager Nick Berardino.... We were marvelling at the magnitude of the Vietnamese turnout in the 1st [Supervisorial District] special election and how it caught so many of us by surprise.

Nick shared an anecdote which vividly illustrates how much the election of a Vietnamese-American candidate to the Board of Supervisors meant to the Vietnamese community.

Nick told me that in late January, they (they being the unions) started a pro-Tom Umberg Vietnamese phone bank staffed by Vietnamese union members. After about a week, the question occurred to someone: "How do we know they're really asking people to vote for Tom Umberg?"

Nick Berardino said they decided to station a Vietnamese-speaker within earshot of the phone bankers to listen to what they were saying.

"Sure enough," Nick told me, "they weren't saying anything about Umberg. They were just telling people to vote." Since Janet Nguyen and Trung Nguyen received virtually all the Vietnamese-American votes, the local public employee unions were running a de facto GOTV phone bank for GOPers Janet and Trung -- and they quickly pulled the plug on the Vietnamese election outreach.

Nick pointed out that these Vietnamese-American phone bankers are dedicated union people. Whereas the average member might walk a single precinct and knock off by early afternoon, Nick Berardino said these folks will walk three, maybe four precincts in a day.

But even that level of dedication to the union gave way before their enthusiasm for electing one of their own as OC's first Vietnamese -American Supervisor.
The Vietnamese are old-school, reminding me very much of earlier waves of Italian, German and Polish immigrants: They came here and maintained their ethnicity for generations, but also fully assimilated themselves into the American society, seeing themselves as Americans first, Americans for the long haul, and Italians, Germans or Poles second.
May the best Nguyen win, and make their Little Saigon neighbors proud.

hat-tip:
Jim