Take That, Al Qaeda!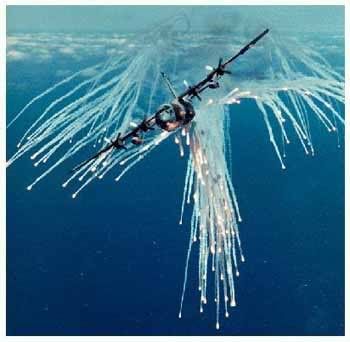 T
otally wonderful! Let's do more of this hunting down Al Qaeda wherever they are -- Pakistan, Iran, Somalia, Libya, Egypt, Syria, heck, France if need be.
If this is a prelude to our new war plan, bring it on.
WASHINGTON - The U.S. military launched a strike against several suspected members of al-Qaida in Somalia, a government official said Monday night.

The official, who spoke on condition of anonymity because of the operation's sensitivity, said at least one AC-130 gunship was used in the attack.

CNN, NBC and CBS first reported the military action. Citing Pentagon officials, CBS said the targets included the senior al-Qaida leader in East Africa and an al-Qaida operative wanted for his involvement in the 1998 bombings of the American embassies in Kenya and Tanzania [Fazul Abdullah Mohammed and Saleh Nabhan]. (AP)

Victory in the war in Iraq will be much easier if we really do make it a global war on terror and give Al Qaeda and other Islamist terrorists no, and that means
no
, quarter.
The news reports aren't specific about which type of AC 130 carried out this attack, so let's take a look at the various configurations of this little bit of Yankee know-how:
The AC-130H Spectre gunship's primary missions are close air support, air interdiction and armed reconnaissance. Other missions include perimeter and point defense, escort, landing, drop and extraction zone support, forward air control, limited command and control, and combat search and rescue.

These heavily armed aircraft incorporate side-firing weapons integrated with sophisticated sensor, navigation and fire control systems to provide surgical firepower or area saturation during extended periods, at night and in adverse weather.

The AC-130H ALQ-172 ECM Upgrade installs and modifies the ALQ-172 with low band jamming capability for all AC-130H aircraft. It also modifies the ALQ-172 with engineering change proposal-93 to provide increased memory and flight line reprogramming capabilities. The Air Force [WR-ALC/LUKA] issued a sole source, fixed price contract, to International Telephone & Telegraph (ITT) for development of low band jammer and subsequent production. Issue a competitive, firm fixed price contract for the Group A modifications (preparing aircraft to receive jammers).

Continuing the distinguished combat history of side-firing AC-130 gunships, the new AC-130U Spectre gunship is being fielded as a replacement for the AC-130A aircraft. This program acquires 13 new basic C-130H aircraft for modification and integration by Boeing to the AC-130U Gunship configuration. The AC-130U gunship airframe is integrated with an armor protection system (APS), high resolution sensors (All Light Level Television (ALLTV), infrared detection set (IDS) and strike radar), avionics and EW systems, a sophisticated software controlled fire control system, and an armament suite consisting of side-firing, trainable 25mm, 40mm, and 105mm guns. The strike radar provides the first gunship capability for all weather/night target acquisition and strike.

The AC-130U is the most complex aircraft weapon system in the world today. It has more than 609,000 lines of software code in its mission computers and avionics systems. The newest addition to the command fleet, this heavily armed aircraft incorporates side-firing weapons integrated with sophisticated sensor, navigation and fire control systems to provide surgical firepower or area saturation during extended loiter periods, at night and in adverse weather. The sensor suite consists of an All Light Level Television system and an infrared detection set. A multi-mode strike radar provides extreme long-range target detection and identification. It is able to track 40mm and 105mm projectiles and return pinpoint impact locations to the crew for subsequent adjustment to the target.

The fire control system offers a Dual Target Attack capability, whereby two targets up to one kilometer apart can be simultaneously engaged by two different sensors, using two different guns. No other air-ground attack platform in the world offers this capability. Navigational devices include the inertial navigation system (INS) and global positioning system (GPS). Defensive systems include a countermeasures dispensing system that releases chaff and flares to counter radar infrared-guided anti-aircraft missiles. Also infrared heat shields mounted underneath the engines disperse and hide engine heat sources from infrared-guided anti-aircraft missiles. (FAS Military Analysis Network)

Let's see an Islamist regime come up with even one of the systems that makes the AH or AU 130. Not a chance. They don't even have night guidance for their camels yet.
Related Tags: War on Terror, Somalia, Al Qaeda, USAF