Pittsburgh Trib Gives Terrorists A Textbook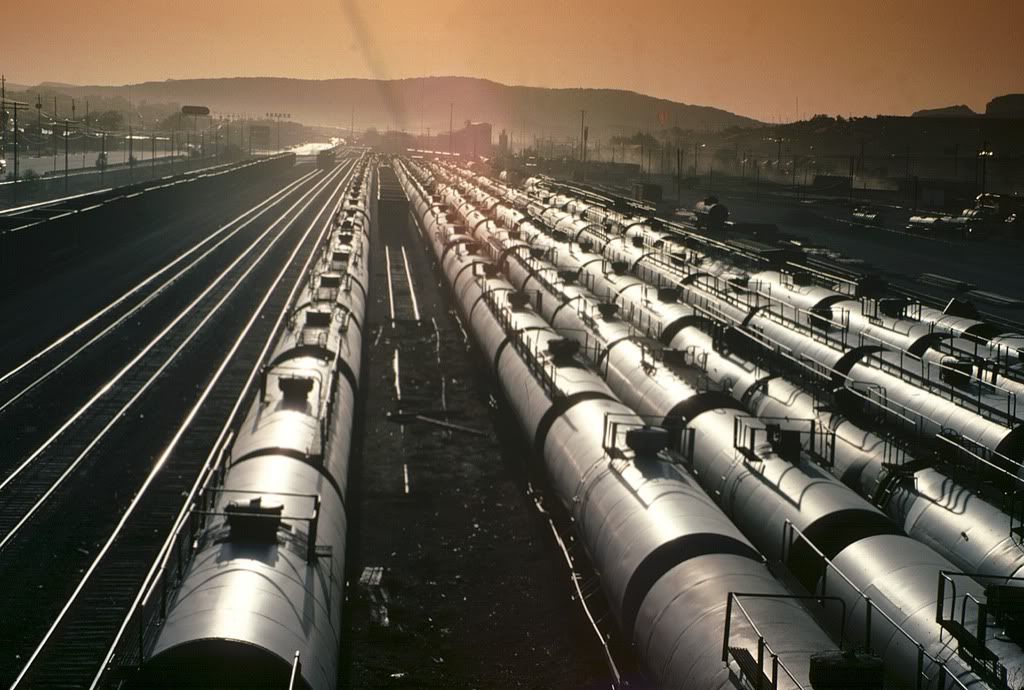 P
ittsburgh Trib-Review reporter Carl Prine must think he's doing someone a service, since he spent months tracking security on the tracks, looking to see if the homeland is secure if there's a freight train anywhere nearby. What he details in
his expose
is, in effect, a textbook for terrorists.
Hey, Abdullah, want some specifics about good future targets? How about this assessment of what a guy with a bomb could do along a train line:
If he was a terrorist, and his goal was to release a potentially catastrophic cloud of deadly gases, explosives and caustic acids -- in unguarded cars, left abandoned -- then a U.S. Department of Homeland Security's planning scenario might apply: 17,500 people dead, another 10,000 suffering injuries and 100,000 more flooding trauma wards, convinced they've been poisoned. The environmental damage would take weeks to clean up, forcing the evacuation of as many as 70,000 residents from a city built on sin, military might and heavy industry.
Want more details about where to go to get away with this, Yousef? Prine is more than happy to help:
In the years since the Sept. 11 attacks, intelligence tips have warned about U.S. chemical plant targets and terrorists have hit freight trains abroad. Still, Homeland Security and the AAR insist there's no indication that terrorists are plotting hazmat rail attacks in the U.S. now.

Good thing, because the Trib found:

Little visible differences in security between the largest and smallest train lines. The Trib easily reached hazmat shipments or locomotives controlled by 12 railroads, ranging from giant Union Pacific to the tiny, city-owned Tacoma Municipal Beltline. Workers never challenged the reporter as he climbed trains, photographed derailing levers or peeked into signaling boxes controlling rail traffic.
No police presence. Despite long trips down tracks nationwide, no rail cops detained the reporter. At a Clifton, N.J., station where explosive railcars hug teeming commuter lines, a Transit Police cruiser idled unconcerned while the reporter spent an hour around hazmat cars. According to the railroads, fewer than 2,300 cops patrol the tracks, about one for every 100 miles.
Shoddy security even at 11 refineries, railroads and chemical plants bound by "stringent" voluntary guidelines created by the AAR and other industries. The Trib penetrated security at four railways adhering to AAR's guidelines. Seven plants that had voluntarily upgraded security to meet standards of their trade groups also had tracks open to terrorists.
This is supposed to make my hysterical and demand that my government immediately invest billions of dollars to enforce security along hundreds of thousands of miles of railroad lines. Should they do that before or after they secure our borders? Our ports? Iraq?
What's the point of the article, then? Someone's already written about the border and the ports, so Pulitzer-sniffing Prine decides his byline is more important than our security and cooks up this big expose.
Does he think for a minute that the government is unaware of the problem? Is he so grandiose as to believe that his little article in the Pittsburgh rag will move things forward? Did he consider for a minute that terrorists also read newspapers? And that they act a lot faster than government?
Prine is a little local
Pamela Hess
, putting his journalistic ego, his bragging rights at the watering hole, and his desire to be on the other side of the Bush administration ahead of national security.
What next? I won't even speculate because terrorists read blogs, too.

Related Tags: Media bias, MSM, War on terror, Homeland security, Railroads