Pelosi Gives The Real Intel Committee To Murtha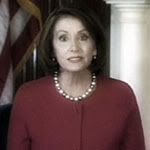 I
t's nice to learn that NanPo understands her own weaknesses and now plans to get some of that intelligence stuff, which she hears is a useful commodity to have. Here's the AP headline:
Of course, most of us prefer it when our leaders come pre-packaged with intelligence.
The real story behind the headline is actually pretty shocking. What she's done is nothing more than a shameless ploy to put the the House's primary intelligence work in John Murtha's hands. The Select Intelligence Oversight Panel she announced today -- sort of an ISG for intelligence -- will be housed at Murtha's Appropriations Committee, not at the Select Committee on Intelligence.
Could there be a more obvious admission by NanPo that her man at Intelligence,
Silvestre Reyes
, is not up to the task?
That story flew right over the head of AP reporter Katherine Shrader, who probably doesn't have a tough question for NanPo anywhere in her head.
Related Tags: Democrats, Politics, Intelligence, Pelosi, Murtha, Reyes