Welcome, Ashley, Ellie And Jake Coble!
"I
don't know how many kids God has in heaven," said 11-year-old Maddie Culler when the Coble family's tragedy hit their town, "but he doesn't need anymore from this neighborhood."
That was about a year ago, as I reported
here
:
We had one of those terrible, unfathomable accidents in OC on Friday at an offramp I frequently use. It's a busy one and most of the time traffic on the freeway slows before it. Everyone knows this and leaves a little extra space, but not this time.

Mom Lori Coble, 30, was driving with Grandmother Cynthia Maestri next to her in the front of the minivan and the three kids, Kyle, 5, Emma, 4, and Katie, 2, were in the back. Jorge Miguel Romero, 37 and the father of two youngsters, was behind them in an 18-wheeler, traveling 55 to 60 miles an hour.

When traffic stopped, Romero didn't. One driver who was there when the crash occurred has a horrifying memory:


"It (the minivan) was like a smashed soda can. I saw the faces of the mom and grandmother as they realized and looked back at the children. … They did not have a chance."

Emma and Katie died on the scene and Kyle died a few hours later in his injured mom's arms.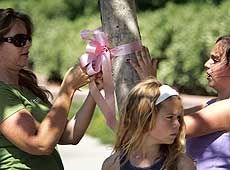 Their home town,
Ladera Ranch
, poured out the emotions, bedecking every tree, sign and pedestrian overpass with ribbons -- two pinks and one blue, over and over again.
A few months later, I had the joyful opportunity
to share with you
the news that Lori Coble was pregnant -- with two girls and a boy. And now,
this
:
MISSION VIEJO – A Ladera Ranch couple who almost one year ago lost three children in a freeway crash announced the birth of triplets – two girls and a boy – born late Wednesday.

The babies were born within minutes of each other. The first baby girl named Ashley was born at 9:42 p.m. weighing 3 pounds, 8 ounces. Then a minute later came Ellie, weighing four pounds, and their brother Jake weighing 3 pounds, 14 ounces was born at 9:44 p.m. The babies are in the care of Children's Hospital at Mission and are listed in good condition. They were born by C-section. Lori Coble is in good condition, said Denise Almazan, spokeswoman for Children's Hospital of Orange County.
No word yet from the Cobles, but I'm going to make a point to drive through Ladera tomorrow. I have a feeling the elves will be out tonight, hanging up a lot of pink and blue ribbons!
Labels: Coble