Peacekeepers Raping Children ... Again
T
he Peacekeepers are back at it again -- "piece-seeking,"' not peacekeeping -- with their disgusting focus on the children they are sent to protect in war-torn nations. BBC
reports
on a report from Save The Children:
Save the Children says the most shocking aspect of child sex abuse is that most of it goes unreported and unpunished, with children too scared to speak out.

A 13-year-old girl, "Elizabeth" (pictured here) described to the BBC how 10 UN peacekeepers gang-raped her in a field near her Ivory Coast home.

"They grabbed me and threw me to the ground and they forced themselves on me... I tried to escape but there were 10 of them and I could do nothing," she said.

"I was terrified. Then they just left me there bleeding."

No action has been taken against the soldiers.
Don't let that last sentence pass you by, because it's the standard operating procedure. Under current Peacekeeping protocols, the UN has no criminal jurisdiction over Peacekeepers; it must rely on the offending Peacekeeper's home country to prosecute. That's the excuse, anyway. The UN could conduct a prosecutorial investigation of each alleged crime, forward the file to the Peacekeeper's home judicial system, and pressure for prosecution. But it rarely does.

You can read the Save The Children report here and the organization's press release on the report here. Some excerpts from the release:

A new report released today by Save the Children UK shows that children living in conflict-affected countries fear to report sexual exploitation and abuse by UN peacekeeping troops and humanitarian aid workers.

Despite recent political commitments by governments and international organisations to tackle this problem, the report exposes the chronic under-reporting of such abuse, which leaves many children around the world suffering in silence. ...

Save the Children UK's research in Ivory Coast, Southern Sudan and Haiti shows that children as young as six are being abused by adults working for the international community. The children interviewed highlighted many different types of abuse, including trading food for sex, rape, child prostitution, pornography, indecent sexual assault and trafficking of children for sex.

"People don't report it because they are worried that the agency will stop working here, and we need them", explained a teenage boy in Southern Sudan....

The report reveals that the perpetrators of sexual abuse of children can be found in every type of humanitarian, peace and security organisation, at every grade of staff, and among both locally recruited and international staff.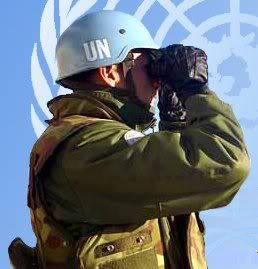 For its part, the UN (shown here, looking the other way) said it "welcomed" the report ... as it has welcomed numerous reports in the past, dutifully commissioning studies and investigations, all of which have been beautifully bound and carefully set on shelves, but all of which have failed to stop the rapes. Claudia Rosette gets it right:
Oh, great. The UN can add this report to its research collection of previous reports on UN peacekeeper rape in Liberia and Sierra Leone and the Congo and so forth; and we can look forward to more UN statements on the issue, such as Kofi Annan's "zero tolerance" policy of 2005, or his zero-zero tolerance policy of 2006 (when he "strengthened" the zero tolerance of 2005), and Assistant-Secretary-General Jane Holl Lute's zero-zero-zero "zero tolerance" promises of 2007 …
Here
are the 18 stories I've written previously on this topic. Outside of the blogsophere, good luck finding this level of reporting on the Peacekeeper rape crisis.
Imagine, if you will, the press coverage there would be if the abusers at Abu Ghraib kept coming back year after year, with ever more horrific abuse of the prisoners in their care. Even though Abu Ghraib is full of hardened terrorist fighters, not innocent under-age children, the press would be covering it in dozens of front-page stories.
But you don't see that. You won't see that. This latest report will slip beneath they tide of type because the media has more important things to do than protecting children from UN Peacekeepers. Yes, it's a full-time job denigrating America -- who has time for anything else?
Labels: Child Abuse, Peacekeepers, U.N.