Show The Red, Blue & Yellow!
Over the weekend, the ruthless Chinese government again took aim at protesters in Tibet, killing at least one Buddhist monk and eight others.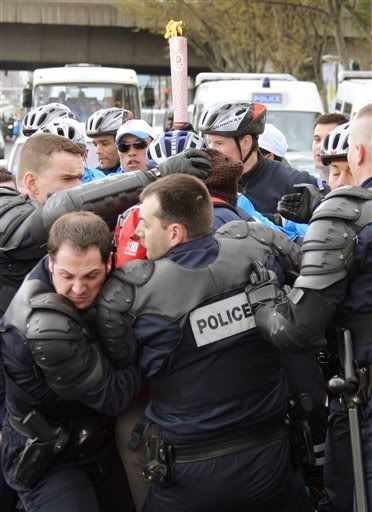 Today, demonstrators in Paris succeeded in stopping the Olympic torch's progress towards Beijing so effectively it had to be put out several times and transported by bus, then the entire shindig was
canceled
.
Yesterday, the head of the International Olympics Committee
admitted
that they were "concerned" about their decision to give Beijing the Olympics.
So what are we to do?
We should not boycott. Political issues should not be carried on the shoulders of athletes who have one window in time to participate in the Olympics. That is cruelty at a level the thugs in Beijing would understand.
President Bush is still saying he'll attend the opening ceremony "as a sports fan." That's crap. He's not seen as a sports fan; he's seen as the president of the country that is founded on freedom and is dedicated to standing up for freedom. So he should not attend.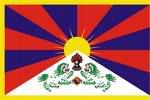 If he does go to the opening ceremony, he should wear a red, blue and yellow tie, to show solidarity (I can't believe I'm typing that word!) with Tibet and others who suffer at the hand of China.
All our athletes's uniforms should be quickly redesigned to incorporate a red, blue and yellow element.
And Tibetan flags by the hundreds should be smuggled into the Olympic compound so they can be unfurled on victory podiums.
The IOC can make up for its sins by drug-testing Chinese athletes aggressively. Our assumption should be that, like the Eastern Block athletes before them, they are not taking drugs voluntarily, but are being forced to take them, thereby justifying the aggressive testing.
As many Chinese medals as justifiable should be stripped from the Chinese, amid the greatest fanfare possible, in order to embarrass Beijing.
And finally, red, blue and yellow notwithstanding, we should not limit the cause of our protest to Tibet. There's
Darfur
, there's the
suppression
of Christianity and other faiths, there's
capital punishment
for petty economic crimes, there's the
bulldozing
of communities so Beijing will "look better," there's
slave labor
, there's
political prisoner labor
, there's too much to list.
Shame on China. Shame on the IOC. Shame on all the free world if we let the Olympics go unprotested.