Dem Primaries Sinking Anti-McCain Efforts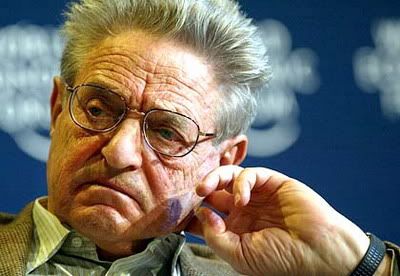 B
esides bruising the reputations of the Dem contenders, the long, bitter primary season has George Soros steaming with frustration. What could be better?
As the Dems remain focused on the primaries, they are keeping their contributions directed at
their
candidate, not the GOP candidate, so Soros' McCain-bashing Campaign to
Swiftboat
Defend America and its ally in smears the Fund for America are both hurting for dough, says
Politico
.
Democratic talk of an early, hard-hitting campaign to "define" and tar Arizona Sen. John McCain appears to have fizzled for lack of money, leading to a quiet round of finger-pointing among Democratic operatives and donors as McCain assembles a campaign and a public image relatively unmolested.

Despite the millions of dollars pooling around Senators Barack Obama and Hillary Rodham Clinton, anti-McCain funds have fallen far short of the hopes set in November, when a key organizer, Tom Matzzie, reportedly told The Washington Post that the "Fund for America" would raise more than $100 million to support the activities of a range of allied groups.
Matzie, who helped run MoveOn.org, was involved in the formation of both groups, and Clinton chief-of-staff [read: bag man or hit man] John Podesta now runs the Campaign to Defend America. The Podesta-Clinton connection is part of the fundraising problem:
The operative noted that the group that attacked President Bush in independent television advertisements in 2004 was run by Harold Ickes, now an aide to Hillary Clinton.

"A lot of the big Media Fund people were Hillary people, and [California billionaire Steve] ["Bing Laden"] Bing's just not going to write a check unless she's the nominee," the operative said.
Interesting. Let's make sure we all understand this Dem-think: McCain is a huge threat to all that's decent in America -- but only if he's running against Clinton. Gee, doesn't that seem to challenge the veracity of the underfunded campaigns? As if such campaigns run on veracity, anyway.
The Campaign to Defend America is covering its butt through a spokeswoman who'd deterring questions on fundraising with this disingenuous statement:
"We're not focused on the 2008 election."
It's true the Campaign began its existence with anti-war campaigning, but really, what's the difference between that and anti-McCain campaigning? Besides, check out this write-up of the group from the
Center for Investigative Reporting
:
A political organization financed by film producer Steve Bing has given hundreds of thousands of dollars to a liberal group running attack ads against Republican presidential candidate John McCain.

American Family Voices Voters' Alliance gave $300,000 to the Campaign to Defend America last November, according to government filings. The Campaign to Defend America aired ads last month calling McCain the "McSame" as President Bush.

As previously reported by CIR and NPR, the Campaign to Defend America ads were financed with $1 million from the Fund for America, a group led and funded by top Democrat donors and operatives. (emphasis added)

These groups will get their funding, eventually. But it will be late, and probably not enough to fund the initial, hopeful budgets, especially if the Bing-ilk grumble through this election with an "America deserves McCain, the idiots" attitude. Given their immaturity, that's a possibility that shouldn't be summarily dismissed.