Will Huck Collapse In Time To Save Fred?
Updated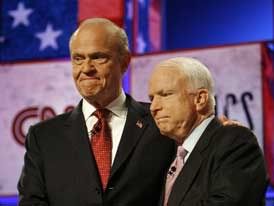 I
f Iowa voters tire sufficiently of Huckabee's foreign policy ineptness, domestic policy liberalism and shameless exploiting of press conferences to shame Mitt by deciding to not shame Mitt, Thompson just might be able to stay in the race long enough to reach the more accepting grounds of South Carolina:
DES MOINES, Iowa – Several Republican officials close to Fred Thompson's presidential campaign said they expect the candidate will drop out of the race within days if he finishes poorly in Thursday's Iowa caucus.

Thompson's campaign, which last spring and summer was generating fevered anticipation in the media and with some Republican activists, has never ignited nationally, and there are no signs of a late spark happening here in Iowa, where even a third-place finish is far from assured.

This reality—combined with a fundraising drought—left well-connected friends and advisers of Thompson Wednesday evening predicting that he will pull the plug on hype and hope before the Jan. 8 New Hampshire primary. (The Pundit)
If the Pundit's sources are correct -- and I'll get to that in a minute -- it will leave GOP conservatives with complicated pickings. Neither Romney nor Giuliani nor McCain offer a clear choice, leaving this as a race that will be forever remembered not by its lack of candidates that say they are like Reagan, but by the lack of candidates that are, in fact, anything remotely like Reagan.
Thompson's weakness is in part his own to claim. First, he appeared indecisive and strange in his process of entering the name, then he failed to turn on any emotion. On the other hand, he has refused to campaign the way candidates are expected to campaign, guaranteeing that whatever his fate in 2008, political operatives will spend a lot of time tracing his footsteps. (As nicely described by
Q&O
.)
As for the Politico story's credibility, it quotes several different Thompson campaign sources and cites the candidates own behavior ...
But Thompson lately has been dropping clear signals that he has reached an up-or-out moment of his own. On Wednesday he took the unusual step of raising expectations for himself at a time when most other candidates are trying to lower them.

When asked what Iowa results he'd be happy with, Thompson held up two fingers, indicating a second-place finish, according to reporters who were with him.

He did something similar on Sunday, when Thompson—apparently in a semi-jocular mood—dismayed his staff by telling reporters that he needed to finish second in the caucuses, a bar that nobody here expects him to cross.
... so it appears to be a bit better than the average punditry. But it is punditry, so hang tight and read the reality, not the tea leaves.
Update:
The Thompson campaign strongly denies the Politico report, says Byron York at
The Corner
:
I just got off the phone with Rich Galen, a top adviser to Fred Thompson, and it would be an understament to say that he is strongly denying the Politico story reporting that Thompson "will drop out of the race within days if he finishes poorly in Thursday's caucus."
Galen says he confirmed the denial with Thompson himself before issuing it.
(hat-tip: memeorandum)
Labels: 2008, Fred Thompson