Poll Check: Flordia Pre-Vote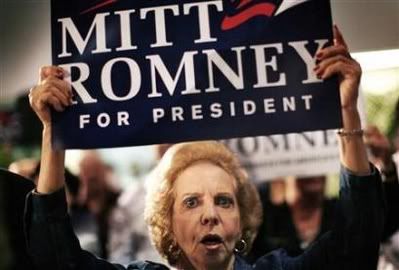 M
cCain and Romney have wrapped up what the St. Pete Times
called
their "rolling catfight" across Florida, and GOP voters in state state are off to the polls.
Here are the
RCP polling averages
for the Florida primary on this very important morning of the 2008 race:
McCain: 30.3%
Romney: 29.8%
Giuliani: 15.0%
Huckabee: 12.7
Paul: 3.8%
It seems to have all boiled down to the economy (Romney) vs. the war (McCain) -- with a large Clinton shadow.
The Clinton shadow used to manifest itself by Republicans voting not for their favorite, but for the candidate they felt had the best chance of beating Bill's wife. But in Florida it may boil down to this:
A lot of GOP voters watched the Clintons' deceitful and disastrous attempt to shove race into the campaign in nearby South Carolin and noted the voters' rejection of her because of it. Now they've watched McCain's equally dirty attempt to shove the war back to front and center, and they may be equally repulsed by McCain.
McCain's brand is two-fold. First, the warrior. That's where he wants to emotion of the vote to come from. Second, the straight shooter. In his effort to turn attention back to the war from the Mitt's stronghold of the economy, McCain sacrificed half his brand.
Worse, he did it at a time when "Who can beat Hillary?" is weakening as a vote-motivator, on the heels of Obama's trouncing of her in South Carolina and the back-to-back Kennedy endorsements of the junior (
very
junior) senator from Illinois.
This is the sort of stuff that plays out more in the privacy of a voting booth than on the phone with a pollster. If I'm right, the pollsters will be wrong. Won't be the fist time.
If I'm wrong and they're right, well, that won't be the first time either.