Don't Underestimate Oprah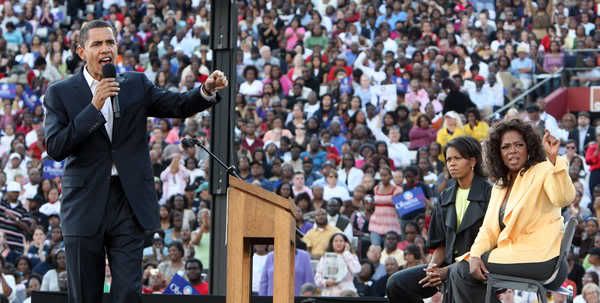 O
bama and Oprah, the two unlikeliest models of modern American blackhood, seemed to have drawled and y'all-ed like the real thing yesterday at Williams-Brice Stadium:
Attendee Tressie McMillan of Columbia thought she heard soft Rs and other hints of Southern inflections from both Winfrey and Obama.
"It was like they were speaking to us like family," McMillan said. "It felt natural." (The State)
It may all seem kind of silly, this Oprah endorsement phenom. But the women who have watched Oprah for years have a deep relationship with her. One recent poll even found that Oprah viewers depend on her more than anyone else for their spirituality. Don't take that lightly.
My Incredible Wife, who hasn't begun engaging much in this campaign yet but has watched Oprah off and on for years, said last night that she would look at Obama based on Oprah's endorsement.
"You won't like what you see," I predicted ... but without complete confidence. Oprah's never endorsed anyone before and many of her viewers, like Incredible Wife, are not particularly political.
I'll let you know which wins: reality or spirituality.