Our Crumbling Civilization: Sick Santa Edition
I
don't even know how to write this. How do you tell people that in New York there's a place one can buy a ... a ... a ...
Santa With Butt-Plug
to mark the holiday season? For $100, yet?
This past Easter, it was
Chocolate Jesus,
now we have to suffer through a chocolate Santa with a butt-plug. Is there a lower basement our culture can settle down into?
Here's the photo and the story, which unfortunately for America's reputation ran in the Times of London: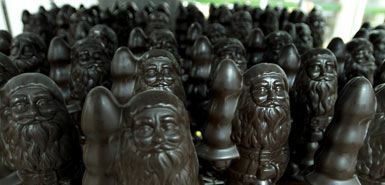 Is it a raunchy festive talking-point? Is it a work of art? Whatever it is, the $100, 10in tall chocolate Santa with Butt Plug is the talk of chic New York - and is delicious, even if the sugar rush could keep you awake.
I'm not 100% clear what one would use a butt-plug for, and please don't tell me. It's enough to know that this little bit of sickness is the creation of one Paul McCarthy, "the 62-year-old Los Angeles-based artist whose reputation was forged in the 1970s with performances that involved him rolling about on the floor, filling his pants with tuna and cramming his mouth with frankfurters."
The Times said "artist," not me. Shoot me, but I still feel artists create works that lift us up and inspire us, not works that exist only to outdo the last abomination foisted on us by the likes of McCarthy.
McCarty is selling his Sick Santa's in a gallery run by Michele Maccarone (say the name, don't just read it). Yes, a gallery, not a store, because this is
art
, you know. One thousand buyers thus far, many of them "art cognosenti" tell us it's art, as does The Times:
It's all part of [McCarthy's] stream of thoughts about the infantilism of much contemporary culture, of how it all leads back to ingesting and defecating, to food and sex and toilet training.
Shudder. I actually agree with McCarthy: Much of contemporary culture is infantile indeed. But I bemoan the fact; I don't go around celebrating it by turning a revered childhood symbol of giving into a ass-inine attack on what's left of our culture.
And since you may be thinking, "What good is a chocolate sex toy anyway," and thereby contributing all the more to society's slide into hedonism, I'll leave it to Maccarone to explain:
"Well, if you want to break this off and stick it . . . I wonder. It might work . . . I haven't tried."
It appears there remains room for Maccarone to get sicker still.