Putin Loves That Ol' Soviet Style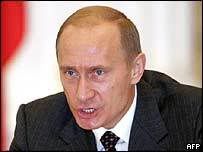 W
ith an election coming up, Vladamir Putin wants to make sure his United Russia party makes a good showing; anything less would be embarrassing and detrimental to his daydream of re-establishing the old Soviet-style government. So ...
MOSCOW (

AP

) - With the Kremlin determined to see a high turnout in Sunday's election, many Russians say they are being pressured to vote at work under the watchful eyes of their bosses or risk losing their jobs.

They say they also are being told to provide lists of relatives and friends who will vote for United Russia, the party of President Vladimir Putin.


United Russia is expected to win handily. But Putin has turned the parliamentary elections into a plebiscite on his rule, and the Kremlin appears to be pushing for nothing short of a landslide. ...


"The plebiscite will become a mockery if only slightly more than half of the people vote and if only 60 percent of those vote for United Russia," as the latest opinion polls predict, political analyst Alexei Makarkin said.
In one example cited in the article, a school teacher says her school's administration got absentee ballots for the entire staff, and they will meet on Sunday to cast them together, under the watchful, totalitarian gaze of their union boss. And that's not all, by a long shot:
Similar accounts have been given by teachers, doctors, factory workers and others around the country. Some have said they were warned they would lose their jobs if they did not comply.

Hundreds of people have called an election hot line to complain about the use of absentee ballots, the Central Elections Commission said in a summary of the complaints posted on its Web site.

Some complaints came from hospital patients, who said they had been threatened with early discharge if they did not produce absentee ballots.
Election officials have promised to investigate ... as soon as they mark their absentee ballots while their bosses look on.

Next up: Military hardware on display in Red Square next May 1?
Labels: Foreign policy, Putin, Russia