Nervous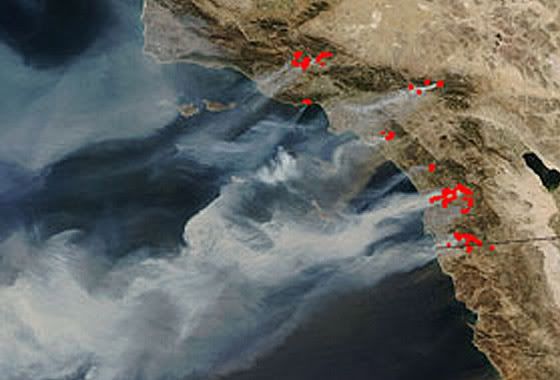 Y
esterday evening, as I was getting the mail and breathing some of the smoke you see in this NASA photo, my neighbor of 16 years P. walked by with her dog Paris (named long, long before anyone had ever heard of Paris Hilton).
"How are you?" she asked.
"Nervous," I replied. I had just driven home and was shocked to see how far south (towards us) the Santiago Canyon fire had spread. It had jumped out of its namesake canyon and had burned Modjeska and Silverado Canyons, and was now burning in our direction along the face of Saddleback Mountain, less than 10 miles from our home.
Meanwhile, an ominous gray cloud completely smothered the entire southern sky, evidence that the new fire in Camp Pendleton was spreading badly.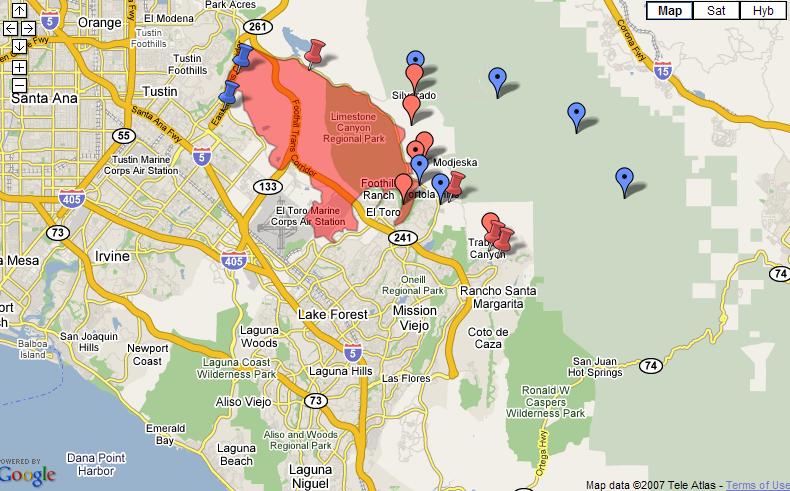 Here's the Santiago Canyon fire map as of this morning (click to enlarge). Our home is in Coto de Caza, south-south-east of the fire. That big blob of dark green you see just to the right of us is a wilderness park (i.e., dry coastal sage scrub up the wazoo) and the light green to the east of that is the Cleveland National Forest (i.e., much more of the same).
Coastal sage scrub is an oily plant that explodes into flame when fires hit it, so you can see why any further southern movement of the already terribly destructive Santiago Canyon fire is very worrying.
Just off the map to the south is Camp Pendleton, where the
OC Register reports
today:
While firefighters battled the Santiago fire overnight, another blaze swept across Camp Pendleton just south of the Orange County line. Flames lapped on both sides of the I-5 freeway, forcing officials to close down the thoroughfare in both directions shortly after 2 a.m. from Cristianitos Road to Harbor Drive, according to California Highway Patrol.

"It's not looking good right now," said Camp Pendleton Fire Inspector Bill Gick. "For the morning commute, you can forget about it. The freeway is closed."
To the north of Pendleton, thousands of acres of coastal sage scrub spread across Rancho Mission Viejo, an old Spanish land grant recently approved for the development of 14,000 new houses, and tie into that same wilderness park to the east of my home.
So we're praying that the fire to the north and the fire to the south don't join. If they do, there's about 100 yards of houses -- four or five rows -- between us and the parched wildlands beyond. I don't know what I'm asking for when I ask for your "thoughts," but I do know what I'm asking when I ask for your prayers, and I'm asking for them. Not for us, but for everyone throughout SoCal who has to answer "nervous" when asked how they're feeling.
All images courtesy of OC Register.
Labels: Fires, Southern California fires