Bad Timing For Burma's Junta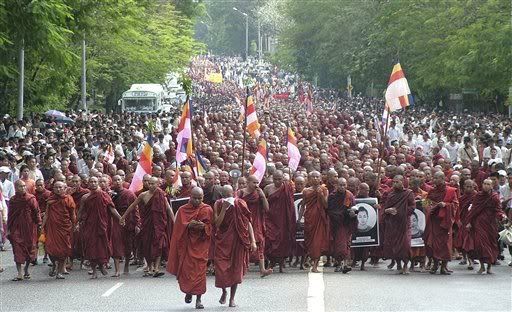 D
o Burmese Buddhist monks know that world leaders converge on New York in late September for the General Assembly?
Possibly, possibly ...
Since all the highest leaders of the
ten-nation
Association of Southeast Asian Nations
(ASEAN) are in New York for the General Assembly this week, it proved much easier for them to get together to discuss the latest attrocities -- five dead yesterday, eight today -- perpetrated upon their people by the commie-leaning megalomaniacs in Rangoon.
So, was it just higher fuel prices that got the monks and the people fired up ... or did they opportunely take advantage of General Assembly's sidebar dynamics to ratchet up the pressure on the wretched generals? Whatever, this is what the got:
The foreign ministers, who met on the sidelines of the U.N. General Assembly session, said in a statement issued after the meeting that they were "appalled to receive reports of automatic weapons being used and demanded that the Myanmar government immediately desist from the use of violence against demonstrators."

"They expressed their revulsion to Myanmar Foreign Minister Nyan Win over reports that the demonstrations in Myanmar are being suppressed by violent force and that there has been a number of fatalities," the statement said.

They called on Myanmar to "exercise utmost restraint and seek a political solution" and "resume its efforts at national reconciliation with all parties concerned, and work towards a peaceful transition to democracy," the statement said. (Breitbart/AP)
In news related to the whole idea that foreign leaders are in the states, we learn:
President Bush called China's foreign minister Yang Jiechi into the oval office when Yang was visiting the National Security Advisor and reminded him that with the Olympics coming up, China might want to take reign in its puppets in Burma.

Condoleezza Rice rallied the Association of South East Asian Nations in New York at a hastily called meeting which reportedly ended when Rice got a bit undiplomatically confrontational with the Burmese delegation.
Yesterday, China blocked a Security Council move to condemn the Burmese junta for its actions, but today a Chinese foreign ministry spokeswoman said Beijing is "extremely concerned about the situation." That's quite a toughening of the ol' rhetoric -- made possible in part by the escalating violence, but also by the escalating dialog facilitated by the timing of this latest cry for freedom.
Smart monks, I'd say.
Labels: Burma, Bush, China, Foreign policy, Myanmar