Kangaroo Kourt Konvenes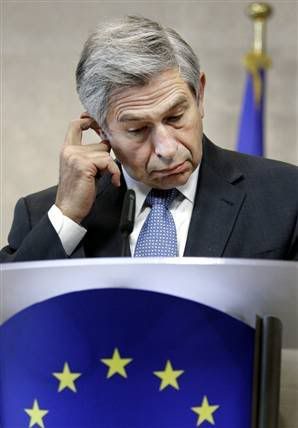 T
oday's the day for Paul Wolfowitz, and the question really won't boil down to whether or not Shaha Riza got preferred treatment at the hands of her boss (I'm speaking monetarily here), but rather, will the anti-reform legions within the World Bank succeed with their snowballing of Wolfowitz.
The
WSJ outlined today
some evidence that is not in the monstrous, 600-page investigative report on the matter. It comes from the personal files of Xavier Coll, the VP/HR of the bank: Memos he wrote to himself documenting the Riza salary negotiations. Here's an excerpt with key elements
highlighted
:
In an August 22 memo, Mr. Coll reports that "I also felt that we were in a very difficult situation -- with no precedent at the Bank -- and that it had enormous potential to damage the Bank's reputation. In balance, I thought that the situation required more flexibility than in other past cases and that there was great risk to the Bank if we could not come to a workable agreement in a few days." Yet the investigating panel now asserts that the situation wasn't all that unusual and that Mr. Wolfowitz should have been allowed no such "flexibility" in how he tried to settle the matter.

In the same memo, Mr. Coll also reports that he had urged a lump-sum settlement with Ms. Riza as she left the bank, and concedes that Mr. Wolfowitz "agreed that I should raise this alternative with Ms. Riza. . . . I felt comfortable that I raised my points of concern with the President and that he has taken these seriously and given due consideration."

And regarding a later conversation Mr. Coll had with Ms. Riza, Mr. Coll wrote, "I indicated that while the President wanted to come to an agreement quickly (he was leaving that afternoon for an overseas trip) he also wanted to make sure that we came to the right solution, both for the institution and the staff." Mr. Coll added that Ms. Riza rejected his proposed "financial settlement."

Only then did Mr. Wolfowitz decide to settle the matter by dictating its terms to Mr. Coll. After Mr. Coll recommended that any future raises for Ms. Riza should be contingent on a review of her work outside the bank by "a committee of her peers," Mr. Coll wrote that "This addition brought the process for potential promotions more in line with current practice at the Bank. I felt that, on balance, this was a reasonable way to move forward and find a solution given the very complex and difficult set of circumstances."
WSJ says to their knowledge, these memos are not cited in the investigative report -- but at 600 pages and so few days to review (whether you're a journalist or the Wolfowitz team), they could have missed them. But I'll bet they're not because we can't slow this particular locomotive with mere facts; this baby runs on innuendo, fabrication and misinterpretation.

Wolfowitz faces a steep challenge, both from the European board members who, with
the backing of George Soros
, want to punish Wolfowitz to get to Bush over the Iraq war, and from the many corrupt states and staffers who don't like the way Wolfowitz has been rocking their lucrative boat.
A suggestion that makes sense for resolution comes from the WSJ editorial: Prez Bush should say, "OK, if you want Wolfowitz, then I'll just appoint Paul Volker the next World Bank prez."
That'll make 'em squirm, as the former Fed chair made quite a name for himself uncovering corruption and scandal at the U.N.
Labels: World Bank