Hundreds -- Thousands? -- Of Illegals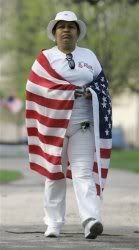 H
ow many illegal immigrants are out there this May Day "demanding" that we give them their rights?
Here's AP from
Breitbart
, tagged at 2:24 eastern:
LOS ANGELES (AP) - Demonstrators demanding a path to citizenship for an estimated 12 million illegal immigrants rallied around the nation Tuesday, hoping to spur Congress to act before the looming presidential primaries take over the political landscape.

From Phoenix to Detroit, hundreds of people carried American flags in the streets.
And here's AP from Yahoo, tagged at about the same time:
LOS ANGELES - Angry over recent raids and frustrated with Congress, thousands of people protested across the country Tuesday to demand a path to citizenship for an estimated 12 million illegal immigrants.

From Phoenix to Detroit to Miami,

thousands

of people carried American flags in the streets.
Yahoo posts it's time as "17 minutes ago" or "one hour ago," and it's not usually very accurate, so maybe the Yahoo editors aren't editorializing here; it could just be a rewrite to reflect more folks showing up. But every other number in the two articles lines up, so my guess is that an immigration zealot at Yahoo didn't want a measly "hundreds" in the lead.
Whatever the count, there are certainly far fewer demonstrating today than did the last time they called for big demonstrations.
These folks mystify me, frankly. Here's one:
Thomas Rodriguez, of Aurora, stood in Union Park wearing a shirt that said: "We are hard workers. We're not criminals."

The 38-year-old has had no legal status since he came to the United States from Mexico in 1989 and is an employee at a Japanese restaurant in Chicago.

"Recent raids have worried me," he said. "We worry deportations are leaving too many young people without parents."
So if he's deported, Thomas would leave his kids here? Why? Because they're citizens and Thomas knows it's better for his kids to be in America without a Dad than in Mexico with one. And why is that so? Because we are a country with laws and discipline and structure, all of which come together to provide employment and opportunity.

Thomas would break all that down for no other reason than he doesn't have the commitment to do it right. He could go back to Mexico, apply for legal entry, come in and pursue citizenship. But like a heroin addict who thinks the government owes him drugs, he and the "hundreds" or "thousands" who joined him think the rules of the country he doesn't want to leave aren't for him.
Another quote:
"There's a lot of anxiety and fear in the immigrant community," said Jerry Gonzalez of the Georgia Association of Latino Elected Officials.
Good. Let there be more. The best solution to the illegal immigration problem is making it harder and less profitable for the illegals to stay illegal.
Update

:
'Tis as I thought:
Immigration rallies held nationwide Tuesday produced only a fraction of the million-plus protesters who turned out last year, as fear about raids and frustration that the marches haven't pushed Congress to pass reform kept many people at home.

In Los Angeles, where several hundred thousand turned out last year, about 25,000 attended a downtown rally, said police Capt. Andrew Smith, an incident commander. In Chicago, where more than 400,000 swarmed the streets a year earlier, police officials put initial estimates at about 150,000.
One question: Why didn't their fears about raids come true? That would have sent a fine message.
Labels: Immigration