A Fine Send-Off For This Soldier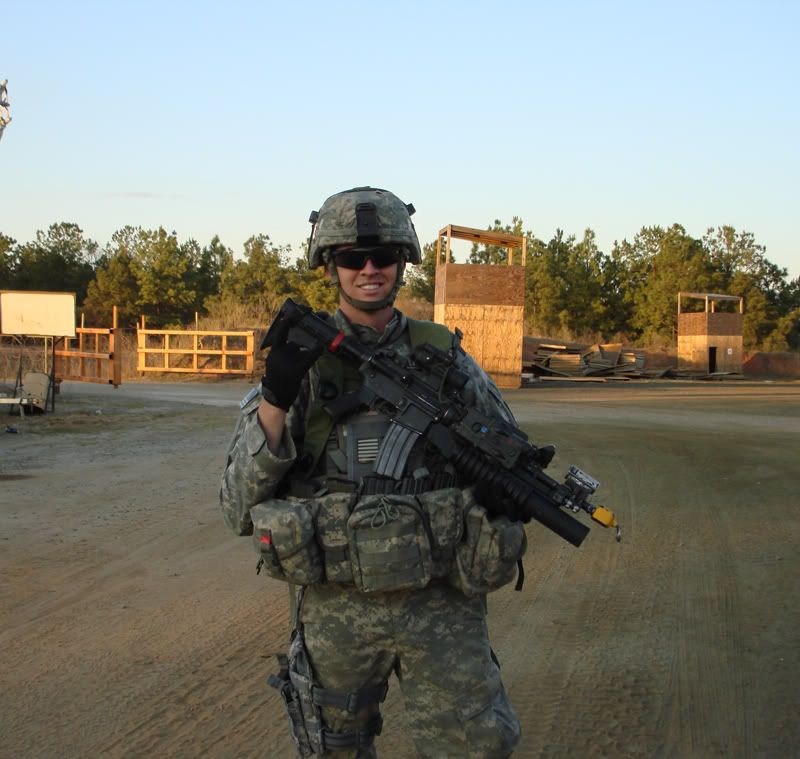 Meet Ryan, who will be leaving soon for his first tour in Iraq. He's a friend of Incredible Daughter #1, a member of an on-line community at Bimmerforums.com, BMW lovers all, who have grown into great friends through the forum and, for many, road trips, race days and meets.
Today, in the matter of a couple hours, Ryan's Bimmerforum friends got together quite a send-off. Incredible Daughter #1 picks up the story:
So this morning Ryan, my friend, asked [on Bimmerforum] for recommendations for a nice knife. He wanted to get it before he leaves next Tuesday for Iraq. He made it clear that he didn't have a huge budget, and couldn't afford a really nice knife. By mid-afternoon, another member, Patron, suggested that we collect money to buy Ryan a knife.

At that point, Joe from

www.hero-gear.com

picked it up, offering his services for the Ryan fund. Post from Joe:

"FYI:

My plan is to take whatever money we raise, and buy Buller his knife/additional gear at dealer cost. This will allow us to get more badass gear for the money.

Just didn't want you guys to think I was going to profit from this.

Those wanting to contribute can paypal me

joe@hero-gear.com

"

Within 20 minutes we had 80 dollars. One member posted that this was stupid because a knife was standard issue and Ryan could use his own money to buy a knife. Joe and other members put him in his place. Response from Joe:

"This is his first deployment, and some of us would like to honor his duty and sacrifice by sending him to the show with a good knife."

By 5 p.m. (4 1/2 hours later) we had over $300.

Ryan had no idea what we were doing, he was offline long before we started the drive. He didn't sign on again until the evening. When he did he posted this:

In all reality I really think I should hold off on spending any of the money quite yet because when I get over there I will have a much better idea of the kinda gear that we will need and don't have....and our troop is definitely VERY under supplied. Considering we are the last brigade in the 82nd to deploy...and with our departure the entire 82nd Airborne Division will be deployed..... getting anything that we need will be very hard.

This is really awesome of you guys. I'm really humbled by what you guys are doing and your support will definitely make things way better for us when we need something desperately and can't get it. As for the guy that was asking why I don't spend my combat pay on stuff, the main reason I don't want to is for the past couple months and all the way through Iraq until I'm out of the Army I'm saving all my money for helicopter flight school for when I get out...that way I'll have a decent job right out of the Army. I can spend on little things but when it comes to multiple hundreds of dollars...that's hours of flight time that is very valuable towards my license.

Again thanks a ton for the support and if you guys don't mind I would rather set the funds aside for something that all the guys in the platoon can really benefit from when I'm over in country. And again if there is anything I can do for any of you guys just let me know and I will help out to the best of my ability.


Right now, we are thinking about adopting his platoon through

www.hero-gear.com

. The problem with this is that Ryan is not [Bimmerforum's] only soldier. We have dozens, and a lot of them are on tour right now. Ryan just gets the attention because he gives us lots of updates. So while I really want to help Ryan, I think it's unfair to all the other soldiers we have in our ranks.
Well, sure, but I think it's great that these kids (most are in their 20s) feel so strongly supportive of what Ryan is doing -- and that's what the troops need more than anything else, just the knowledge that we care.
Labels: America, War in Iraq