Advertising Ignorance
W
hen an ad reaches fine art caliber, and even more, achieves historical significance, you would expect the well-educated journalist to be aware of it ... but it's just too much to ask.
The much-clicked
"1984" Obama ad
may have historical significance -- we'll see -- but it has no more artistic merit than a sofa painting at a Howard Johnsons because it is a mere knock-off. Neither AP political writer Kathleen Hennessey nor her raft of editors seem to know that though, based on this description of the ad
today
:
The ad, posted on the online video site YouTube and viewed by more than 1 million people, depicts drones watching a Clinton speech in a trance, until a female athlete runs in, shatters the screen and breaks the monotony. It ends with the text: "On January 14th the Democratic primary will begin. And you will see why 2008 isn't going to be like '1984.'" It signs off with "BarackObama.com"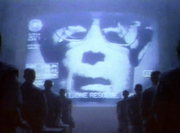 Missing is the paragraph that says the original on which it was based was created by the legendary Jay Chiatt, written by Steve Hayden of Chiatt-Day and directed by none other than Ridley Scott, fresh off his direction of Bladerunner.
The ad only ran nationally* once, during the third quarter of the 1984 SuperBowl, and introduced Apple's Macintosh computer. It had Big Brother, not Hillary, representing IBM, not political business as usual.
* The ad ran a second time -- a month earlier -- on a TV station in Twin Falls, Idaho, so it would qualify for 1983's ad awards. That seems small in retrospect. Advertising Age subsequently named it the "Ad of the Decade" for the 1980s and in 1999 Readers Digest named it one of the 50 Greatest Commercials of All Time.
If you want to have some fun, go to my source for this (
Wikipedia
) and scroll down to the section on other times the ad has been knocked-off.